This post may contain affiliate links. Please see my Disclosure statement for more details.

Sometimes family isn't blood.
I've often mentioned my dearest friend Michelle on here. I don't think she reads the blog, as she is an extremely busy PhD student with a very significant other and a dog! I wish she did, but I think she knows how much I adore her.
Since we went to college in my hometown, often Michelle and I would hide out at my parents' house at some point during finals. We'd watch old musicals, paint our toenails, and cook. I remember one time she called her mom and asked for this recipe. We threw the casserole together and ate until our tummies were very happy.
Since her mom, Jackie, recently passed away, I've been thinking about her and her delicious casserole lately. I think I'll make it soon and remember her over dinner and a candle.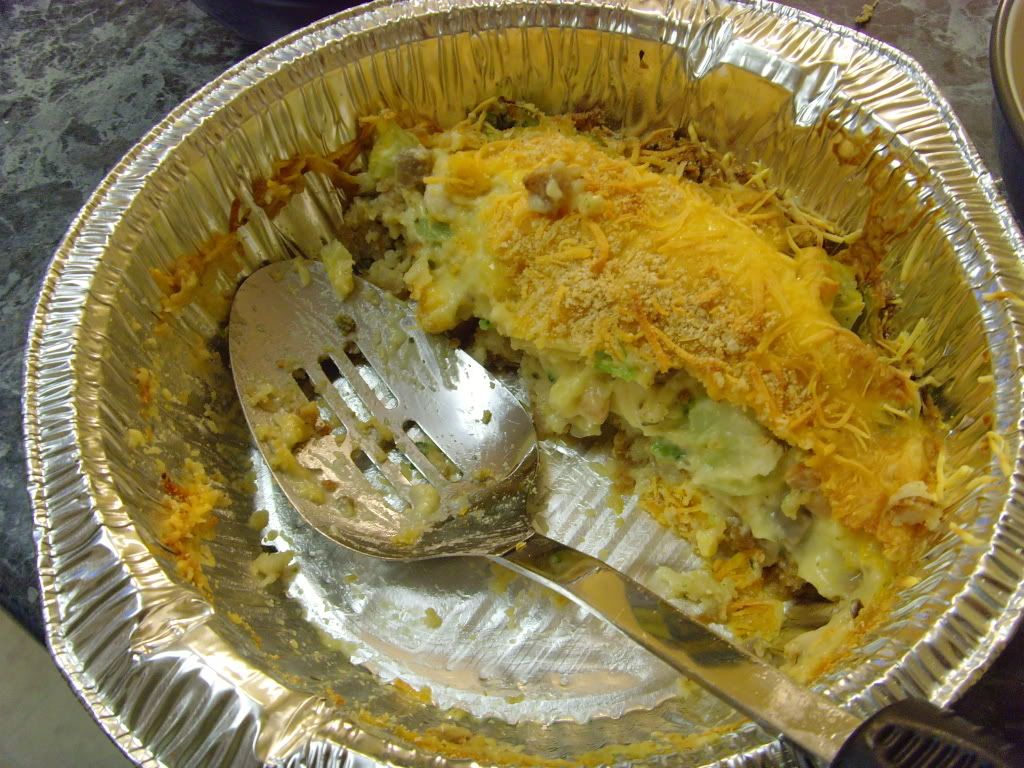 Jackie's Chicken, Broccoli, and Stuffing Casserole
Ingredients
1 package Pepperidge Farm stuffing
1 can cream of mushroom soup
1 can cream of chicken soup
1 package frozen broccoli spears, thawed
1 chicken breast per person (4-6 work well) [cut into strips or chunks]
1 c. shredded cheddar cheese
1/2 c. breadcrumbs
1-2 T butter
Instructions
Spray a 9×11 pan with cooking spray. Cook stuffing according to package directions. Line pan with stuffing. Add layers of broccoli and chicken. Combine soups; pour over the top. Sprinkle with cheese and breadcrumbs; dot with butter.
Bake at 350 for 60 minutes.
To freeze, assemble as normal, cover dish with aluminum foil, and freeze. Defrost and bake according to instructions, adding a few extra minutes if it's cold. I have tested it though, and it freezes great.
http://www.jessieweaver.net/2009/05/family-recipe-fridays-friend-and/
Other Family Recipe Favorites:

Caprisio Tortellini Salad (The MawMaw) [I have to interject and say–I made this last summer on MawMaw's recommendation, and it was INCREDIBLE. SO GOOD.]
White Pizza (Lattes and Life)
Peach Crumb Cake (Better is Life)
Ham and Green Onion Cream Cheese Spread (Couponing Mom)
Gingerbread (PhotoGrove)
Italian Chicken Sausage Spaghetti (Cooking During Stolen Moments)


Added to Ingredient Spotlight: Broccoli.