This post may contain affiliate links. Please see my Disclosure statement for more details.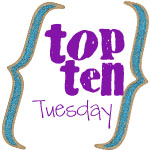 My birthday is coming up! It's May 26, and I struggle to say I will be 27. I know that's not that old … but for some reason is sounds much closer to 30 than 26 does! I've pulled out several gray hairs recently. I'm just starting to feel like a grown-up, I guess. Hah. Which I should, since I've been married nearly 5 years and have a child now!
Anyway, I thought I would amuse myself by listing the Top Ten Things I Would Love for My Birthday, but probably won't be getting. And Mom–NO, you cannot buy them all. Having you here for my birthday is present enough!
1. Eight hours of uninterrupted sleep. I have a six-month-old. 'Nuff said.
2. ERGO Baby Carrier. Unfortunately, I am waiting to hear back from the doctors on whether my back is in real disarray (I had an x-ray on Friday). I've been in back pain for the better part of a year now and carrying the baby doesn't really help it. But I love doing it. It's so easy and I like having her close and where she can see everything!


3. MacBook. I am spoiled to have a Mac at work (a GIGANTIC iMac), and our laptop at home just fried (after a stinking year and a half). I am lusting after this baby.


4. Babette's Feast. I LOVE this movie. It's in Danish, about a woman from France who ends up being the servant for two old maids in Denmark. The old maids are part of a primitive religious sect who forgo anything worldly. It's just a beautiful, delicious, and lovely movie, and I'd like to have it to be able to watch whenever I want!


5. For Mr. V to have a job. We're getting closer, we think. Please pray.
6. To be able to find this dress for Libbie for the fall, and for it to perhaps not STILL cost $20! It's one of those Gymboree things I've been obsessed with since it came out and never bought because the price is still so high for me.


7. Springform pan. Mostly so I can make this Ultimate Cheesecake. Or perhaps recreate Carolyn's peanut butter cup cheesecake, which sent me into a happy sugar coma.
8. Maid service. Oh, a girl can dream, right?
9. Broadway soundtracks. They make me happy! Plus, I can annoy everyone at work by singing along loudly in my office.
10. And while we're at it, Sirius Radio, so I can listen to the Broadway channel! Yes, I'm an addict. Oh well!
For more Top Ten Tuesday, visit OhAmanda!