This post may contain affiliate links. Please see my Disclosure statement for more details.
Due to vacation, I'm going to have a few "reruns" here this week as well as some compilation posts.
I've realized recently–in the last year or so–that I have a hard time becoming involved in something without being obsessive. For me, this is crocheting, cooking, writing, music, thought processed…pretty much anything. One of my most recent examples is Paperbackswap. I joined this online book trading club in September 2006, intending to get rid of some of my books I've read and didn't really want to read again, and get some books I haven't read yet. I am a bit of a voracious reader but I've always had trouble getting books back to the library on time so I thought it would be great for me.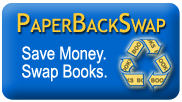 Well, a little over a year later, I have 150 books I haven't read sitting in my house. I have found myself going to bookstores just to buy books to post on PBS–not even to read first! I read things I might not even want to read just to participate in swaps or challenges on the message boards. It's kind of astonishing to me! I've tried to make myself stop recently, and I am trying to only read what I truly want to. But it's been a fun addiction.
Despite the disarray of my house, I am a perfectionist and oldest child in many ways. If I am going to do something, I want to be the best. I am constantly battling my psyche that says Everything has to be perfect or no one will like you. I spent a lot of years with social anxiety, thinking that everyone disliked me at first sight and only if they proved otherwise might they even be indifferent towards me. Never mind the fact I can think of one person ever who I know truly disliked me. It just must be true because I thought it was.
I think my battle with losing weight has always been that for some reason I can't get myself into the obsession about it, and I don't know why. And then if I can't be perfect, I get frustrated and want to stop. It's time for a new frame of mind, don't you think? My new decision is baby steps. One foot in front of the other. One choice at a time. For everything in my life, hopefully!
Originally published December 3, 2007