This post may contain affiliate links. Please see my Disclosure statement for more details.
… and also at healthy-ing up a dish, somewhat.
Poppy Seed Chicken is a Southern favorite. But it's usually made with sour cream AND cream of chicken soup. Add a whole sleeve of crushed Ritz crackers to the mix and you have your fat for the day in a small dish.
I was feeling creative Saturday night but didn't have much in terms of food to work with except a package of chicken breasts. So I decided to put my own spin on Poppy Seed Chicken and see how it worked out.
I only cooked mine for 30 minutes, which was a mistake. The sauce needed to thicken up more and the chicken needed to cook through slightly more, I think. It was pretty done but not quite as done as I like my poultry.
Without further ado, here is my Pioneer Woman-esque recipe. [For any of you who don't know what that means, it's just that it has step-by-step pictures.]
Poppy Seed Chicken with Havarti
a Vanderbilt Wife original
In a large saucepan, melt three tablespoons of butter.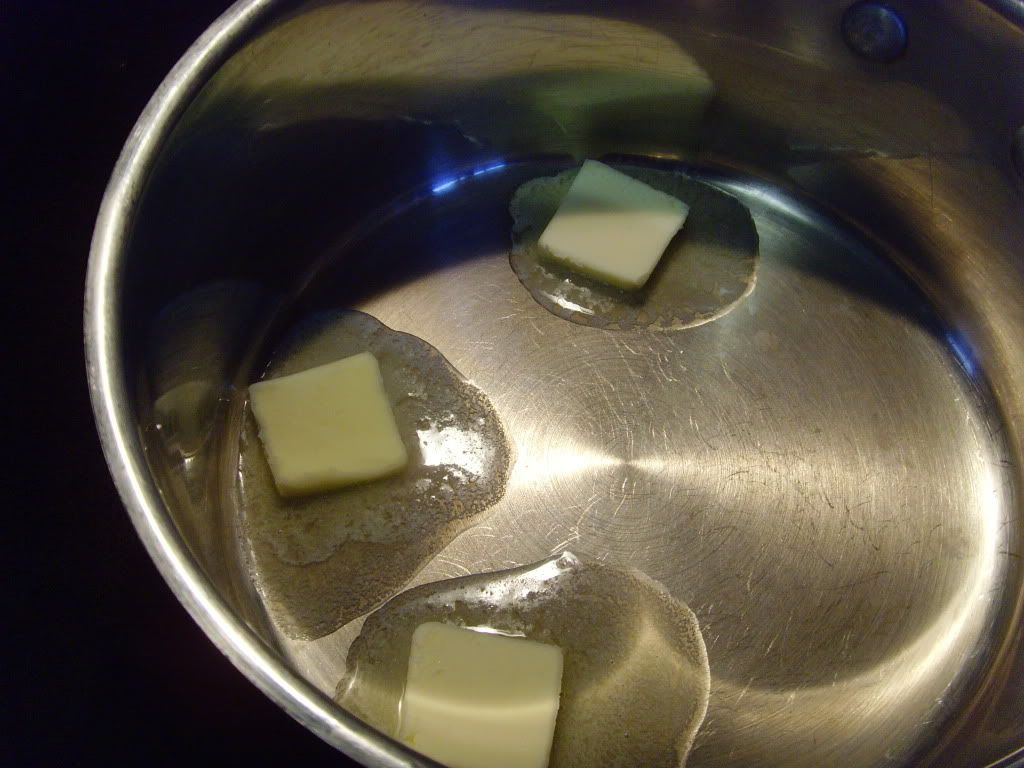 When the butter is completely melted, whisk in three tablespoons of flour (I used whole wheat). Whisk continually for about a minute.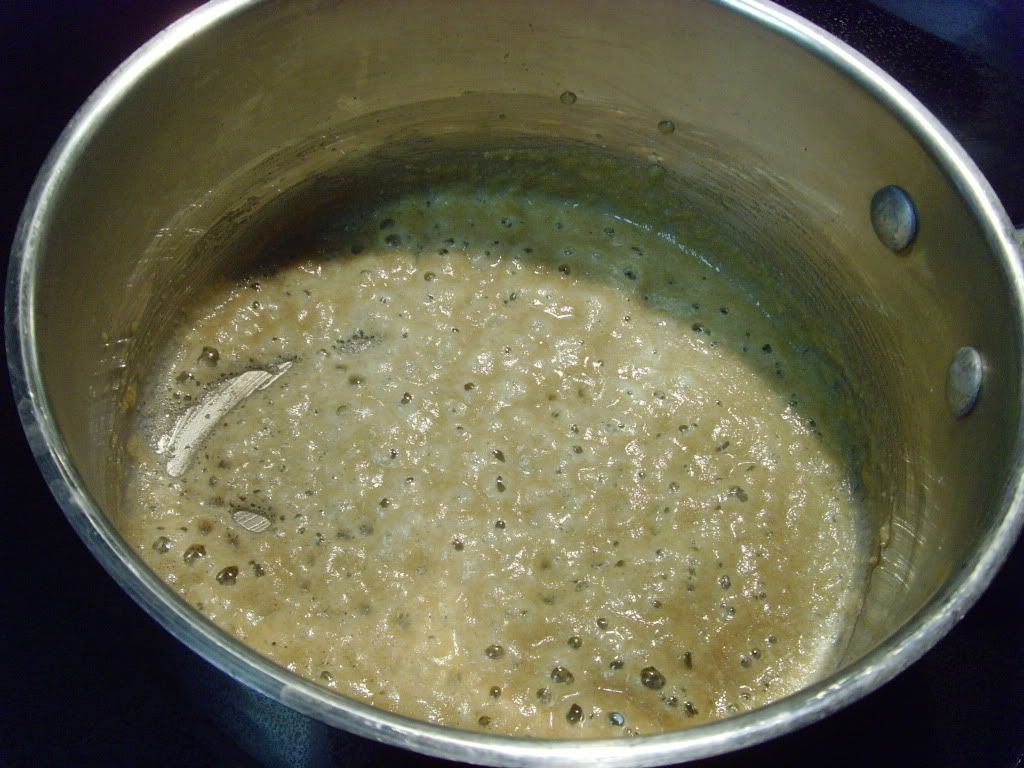 Whisk in 1 1/2 cups milk. Continue whisking until your sauce thickens. This took about 5 minutes for me on medium-high heat. You want to be able to have your sauce coat a wooden spoon, like this: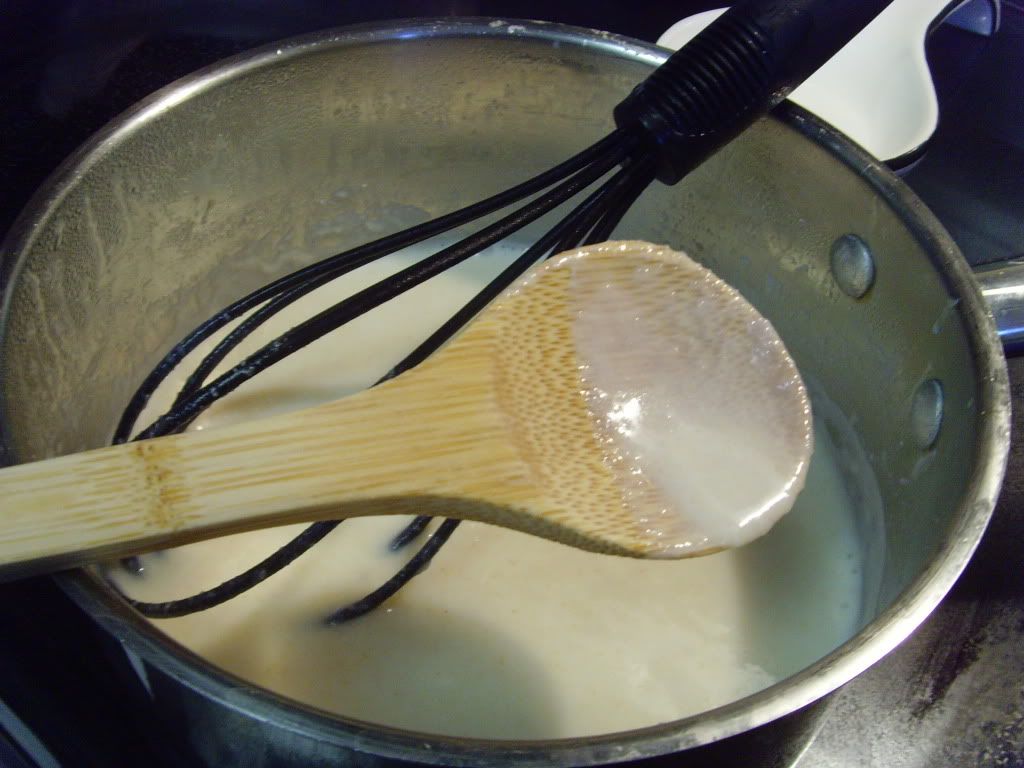 Sprinkle in a little salt and freshly ground pepper and about two teaspoons of chicken base or boullion. Then remove the pot from the heat. Chop up three boneless, skinless chicken breasts and about 3 ounces of Havarti cheese (if you are too lazy to find your cheese grater, dicing the cheese is fine).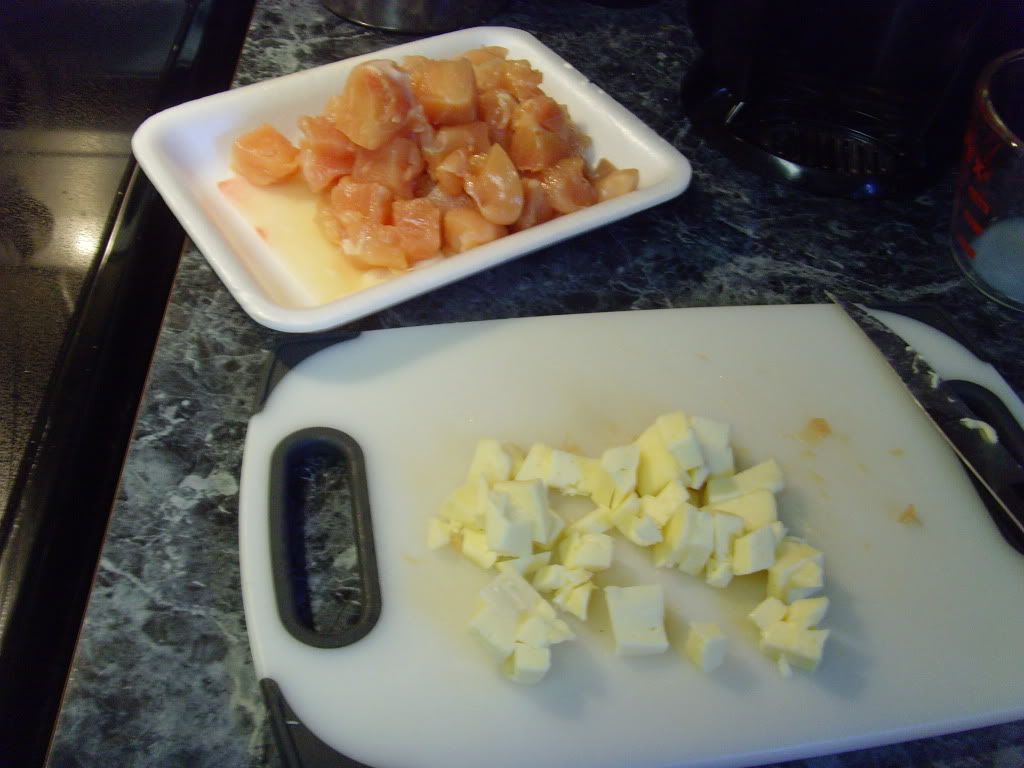 Stir the cheese and chicken into your sauce. Add 1 tablespoon of poppy seeds. (I only had about half a tablespoon on hand, so my sauce was not very poppy seed-y.)
Stir until the cheese is all melted and incorporated into the sauce. Fold in 1/3 cup plain yogurt. Pour the mixture into a medium-size casserole dish (about a 2qt or an 8×8 cake pan).
Next, you need some bread crumbs. I usually have a canister on hand, but I didn't for this, so I made my own for the VERY FIRST TIME EVER. Then when I went to buy some today, I looked at the list of ingredients on the can of bread crumbs and just about died. It's bread! Crumbed! How can there be corn syrup and red #67 in it? Decided from now on I'll just make my own. I used half a hamburger bun from the freezer and it worked fine. Just processed it in my mini chopper.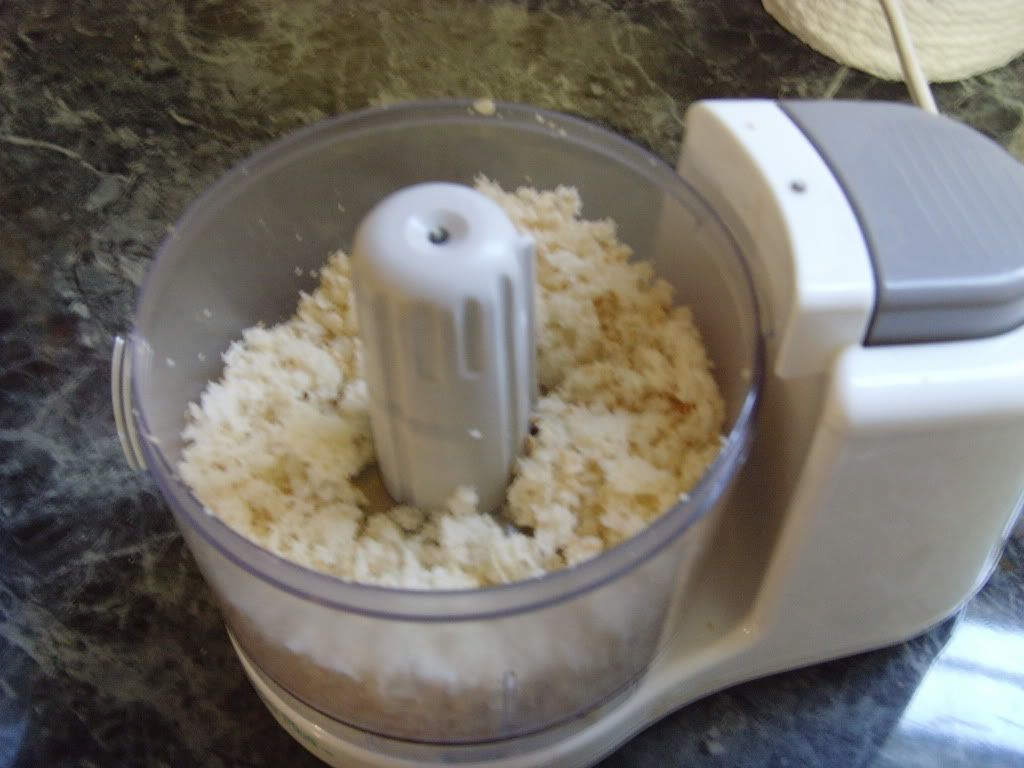 Sprinkle the bread crumbs over the top of the casserole (this is probably about 1/3 cup). Dot with butter so the crumbs will get nice and golden. (About another 1 1/2 T of butter, cut into very small pieces.)
Pop it in a 350 degree oven for 40-50 minutes or until bubbly in the middle. Serve over rice or egg noodles, something to sop up all the yummy sauce.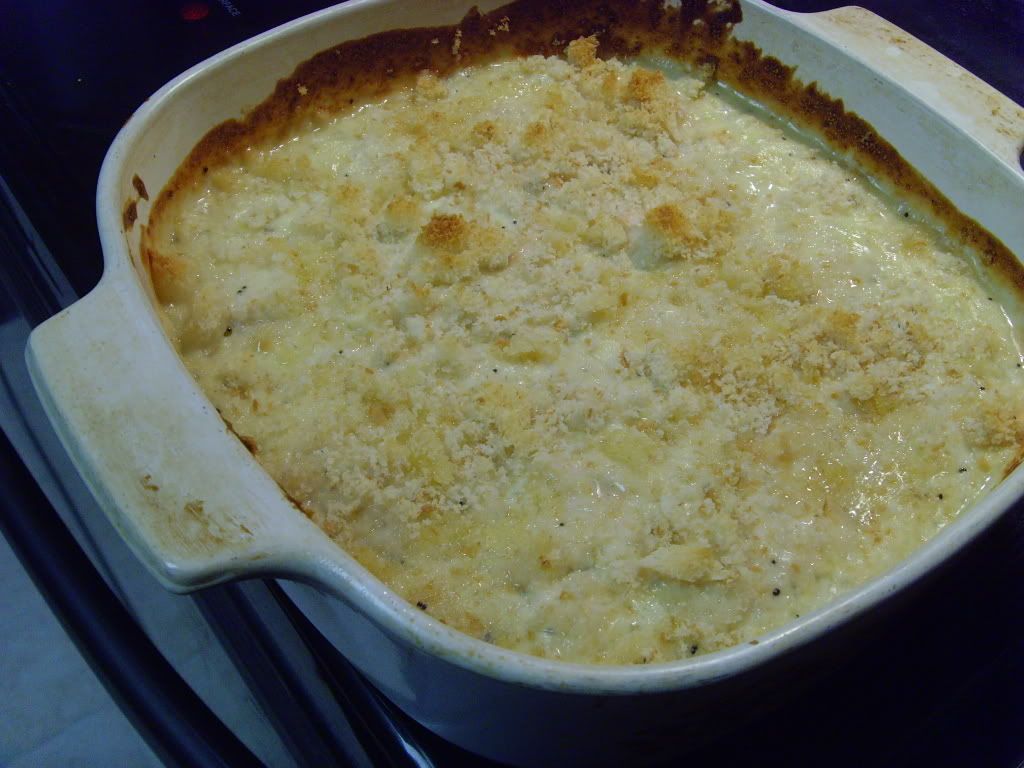 And the simplified version.
Poppy Seed Chicken with Havarti
Ingredients
1 lb. boneless, skinless chicken breasts, cubed
3 oz. Havarti cheese, diced or shredded (could substitute Swiss if you can't find Havarti at a good price)
4 1/2 T butter, divided
3 T flour
1 1/2 c. milk
2 tsp. chicken base or boullion
salt and pepper
1 T poppy seeds
1/3 c. plain yogurt
1/3 c. soft bread crumbs
Instructions
Melt 3 T butter. Whisk in 3 T flour. Whisk for one minute or until bubbly. Whisk in milk; stir continuously for 5 minutes or until thickened. Add salt, pepper, and bouillon. Remove from heat.
Stir in chicken, cheese, and poppy seeds. Keep stirring until cheese is all melted. Fold in yogurt. Pour into a casserole dish.
Top with bread crumbs; dot with butter. Cook at 350 for 40-50 minutes. Serve over rice or noodles.
http://www.jessieweaver.net/2009/09/my-attempt-at-being-pioneer-woman/
Joyfully submitted to Mouthwatering Monday, Tasty Tuesday, and Friday Feasts.
Visit Kitchen Stewardship for more Un-Processed Foods Recipes as part of the October Fest Carnival of Super Foods. Next week's theme: "Healthy Fats."