This post may contain affiliate links. Please see my Disclosure statement for more details.
I love this picture insanely.
It was the day we brought Libbie home from the hospital–October 29, 2008, her daddy's 27th birthday.
I love how I am holding her like a fragile piece of china, so different than now, when I feel free to hang her upside down by her toes and toss her in the air.
We were so anxious to get home. I had a wonderful labor experience but my recovery hospital stay left much to be desired. The pediatrician that came from our office neglected to see Libbie the first day in the hospital, so the day we were going home we had to wait and wait and WAIT for him to clear her for exit.
I was so overjoyed to finally have my little girl at home with me, where she belonged. In my mind's eye I can still see her little eyes peering at me as they did those first days of her life outside my womb. Dark, curious, precious baby eyes. Looking into my daughter's eyes for the first time was a miracle. I know everyone doesn't feel this way after their births, but as soon as I held her and looked at her my heart burst open and I never wanted to let her go.
I still don't, but she's much more wiggly now.
____________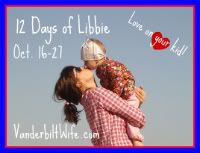 If you'd like to help celebrate Libbie's birthday, please write a post loving on your kid(s) and link to it here. You're welcome to use something you've already written, I just ask that you link back to my site. We all get so wrapped up in the everyday of parenting that I think it's important to remember the special moments. I'm excited to share these moments with you and to read yours! Code for the button is in the sidebar.