This post may contain affiliate links. Please see my Disclosure statement for more details.
I've been waiting for the right time to share this story, and this is it!
In the end of August, at the very end of Libbie's 10th month, we rented a UHaul and moved all of the furniture from our storage unit into our rental house in Chattanooga. One of my friends at work offered to drive the UHaul down for us since neither Mr. V nor I was comfortable doing it. So he and his wife were in the UHaul and we caravanned across the mountains.
We stopped at Cracker Barrel for lunch and Libbie was seated in her high chair at the end of the table next to me and my coworker's wife, Cheryl.
After we got our food, we bowed our heads to pray. When we looked up, my child was gnawing on the piece of toast that had previously topped Cheryl's BLT. She snatched that thing right off while we were IN PRAYER.
Can't close your eyes for a second around Miss Libbie. She's a ravenous beast.
____________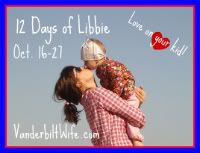 If you'd like to help celebrate Libbie's birthday, please write a post loving on your kid(s) and link to it here. You're welcome to use something you've already written, I just ask that you link back to my site. We all get so wrapped up in the everyday of parenting that I think it's important to remember the special moments. I'm excited to share these moments with you and to read yours! Code for the button is in the sidebar.