This post may contain affiliate links. Please see my Disclosure statement for more details.

Please don't berate me for putting this picture on here.
It's just SO stinking cute. I LOVE baby booties. Why are they so cute? Mine, for example, is definitely not so cute.
Libbie learned to make quick work of taking her diaper off. Usually I'm pretty good at keeping at least bloomers or pants of some sort on her to avoid any poop-on-the-floor accidents.
I'm going to blame this one on Daddy leaving her in just her diaper, because, well, he's not here to tell otherwise.
I believe I was in the kitchen washing dishes after dinner when Little Miss crawls in, casually trailing her pink BumGenius behind her. It struck her daddy and me as really funny, especially when she pulled up and starting wiggling the booty up and down, dancing and laughing.
Girl, I'm not sure how I feel about you liking being naked so much.
But this was definitely better than the night she only half took off her diaper so that I couldn't tell it was undone and then PEED ON MY FLOOR.
She's a squirrely girl.
_____________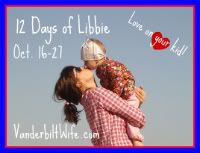 If you'd like to help celebrate Libbie's birthday, please write a post loving on your kid(s) and link to it here. You're welcome to use something you've already written, I just ask that you link back to my site. We all get so wrapped up in the everyday of parenting that I think it's important to remember the special moments. I'm excited to share these moments with you and to read yours! Code for the button is in the sidebar.