This post may contain affiliate links. Please see my Disclosure statement for more details.
10-26-09
Dear Libbie,
Last year at this time, I was in labor, probably being sent home from the hospital because I wasn't quite ready yet. It's hard to comprehend that it's been a year already.
You are still a baby and yet a little girl as well. You're fearless–climbing (and falling down) stairs, opening and closing everything, discovering every nook and cranny wherever we go.
At 12 months, you:
– stand on your own, take a few steps here and there, and move constantly
– eat a lot of fruit, bread, and cheese, despite my constant attempts to get you interested in other foods
– laugh constantly and love being tickled
– have 6 teeth (5 and 1 coming in)
– have huge blue eyes that people always comment on
– have a little mop of curly, dark blonde hair
– are a total Mama's girl
– are very easygoing and sweet, but also demanding and quite forceful!
All my life, I've wanted to be a mother. I don't have a huge career drive, although I love to write. A year ago, you fulfilled my dream. I never imagined how it would feel to have you look at me, grin, and tackle me for a hug. How your laugh would make me do wild things. How your true, heartbroken wail would shatter my heart. Being a mother–YOUR mother–is both difficult and wonderful, heartbreaking and joyful. I love you in a way so different than I have ever loved another human. It is awe-inspiring.
I prayed with you tonight and told God that now I understand a little more how much it must have hurt to send His Son to die. I can't imagine giving you up to any pain voluntarily, not for anyone. He loves us so much, Libbie. I pray you will know the amazing love of God more than anything else I wish or pray for you.
Love you always, Peanut.
Your Mama
_________________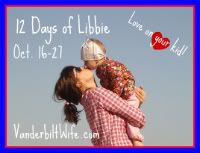 If you'd like to help celebrate Libbie's birthday, please write a post loving on your kid(s) and link to it here. You're welcome to use something you've already written, I just ask that you link back to my site. We all get so wrapped up in the everyday of parenting that I think it's important to remember the special moments. I'm excited to share these moments with you and to read yours! Code for the button is in the sidebar.