This post may contain affiliate links. Please see my Disclosure statement for more details.

Sweet Libbie. You'd never know from that angel face this was the night I first discovered she could scream bloody murder.
At just five weeks, I took Libbie to the Big Hat Tea Party at church one chilly night in early December. While you can read that story to hear about the screaming, my most vivid memory is beaming with pride at my well-dressed, well-behaved daughter, being adored by all the behatted women there.
It makes a woman different, to give birth. I am hesitant to write this, for I know many women who long with all their hearts to be mothers and that gift has not been given to them yet. There are a multitude of other ways of boosting confidence.
But for me, the act of bringing this child into the world changed me completely. I have a different confidence, a feeling that I could do just about anything. That night I felt all those mothers beaming in approval at my girl and I was strong.
As many other babies as I might have, it will be my Libbie, my precious girl, who made me a mother. I thank God every day for the gift of this darling daughter, as wild and whiny and crazy as she may be some days.
Photo by Rebekah Pope; adorable Santa getup, a gift from Nana.
__________________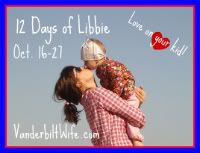 If you'd like to help celebrate Libbie's birthday, please write a post loving on your kid(s) and link to it here. You're welcome to use something you've already written, I just ask that you link back to my site. We all get so wrapped up in the everyday of parenting that I think it's important to remember the special moments. I'm excited to share these moments with you and to read yours! Code for the button is in the sidebar.