This post may contain affiliate links. Please see my Disclosure statement for more details.
I took this picture the night before I went back to work. Honestly, it's just about the only picture I have that I like from her third month. How sad is that?
Going back to work was an adventure. I've written a little bit about it on Divine Caroline and November's issue of ParentLife magazine. Here's an excerpt about my first week back from the Divine Caroline article:
Friday: The week has begun to wear on me. I am so glad it's Friday and I get to spend the weekend with my little family! When I went to feed Libbie at lunch, most all of the other babies were screaming. It ate me up thinking about her laying there crying and not having anyone paying attention to her. It's all I could imagine all afternoon. By 3, I was practically in tears. One of my coworkers encouraged me to go get her and bring her back to work. He didn't have to ask twice! I went and grabbed her and brought her back for oohing and ahhing by my coworkers (again). When I picked her up, she had dried spit-up on her neck and that made me upset and sad. Hope she doesn't develop a rash.
The perils of the work-outside-the-home mom are many. (I try to always put it that way, because I know stay-at-home moms work, too!) I try not to regret the fact that I've let others see my baby more than I have for the last 9 months. It breaks my heart to think about it, because I've always wanted to stay at home with my baby.
But then I think about Libbie and her little daycare friend Reagan, holding hands and laughing together (seriously! at like 5 and 6 months!). How my current sitter, Amber, told me that her daughter was in Target this weekend and picked up a whole armful of clothes for "Baby Libbie." I'm glad that Libbie loves other kids, is extremely laid-back, and is comfortable around other adults, too. While maybe it wasn't the ideal situation for me, I'm grateful that those caring for my daughter have done so lovingly and she has truly benefited from their love.

_________________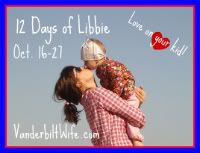 If you'd like to help celebrate Libbie's birthday, please write a post loving on your kid(s) and link to it here. You're welcome to use something you've already written, I just ask that you link back to my site. We all get so wrapped up in the everyday of parenting that I think it's important to remember the special moments. I'm excited to share these moments with you and to read yours! Code for the button is in the sidebar.