This post may contain affiliate links. Please see my Disclosure statement for more details.
My sweet girl was not even five months old when she went on her first plane trip.
I was 16 when I was on a plane for the first time!
I guess in "this day and age" it's not that rare. Flights are less expensive, especially with airlines like Southwest.
By the time she was 5 months old she'd been to Tennessee, Kentucky, Ohio, Virginia, Pennsylvania, Maryland, and West Virginia, mostly as part of our Great American Christmas Roadtrip.
I hope, like her mom, Libbie will love to travel. There's so much out there to see. So much to experience in other cultures. I hope she will appreciate the accessibility we have to the rest of the world that many generations have not had. I also hope she recognizes the work of God's hands in the mountains of Montana, the waterfalls of Brazil, and the oceans of Thailand.
Like any parent, I want her to have everything I've had and more.
How far has your child traveled?

__________________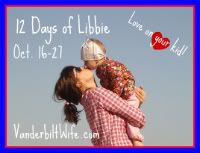 If you'd like to help celebrate Libbie's birthday, please write a post loving on your kid(s) and link to it here. You're welcome to use something you've already written, I just ask that you link back to my site. We all get so wrapped up in the everyday of parenting that I think it's important to remember the special moments. I'm excited to share these moments with you and to read yours! Code for the button is in the sidebar.