This post may contain affiliate links. Please see my Disclosure statement for more details.
Sometimes I feel like I barely recognize this little not-even-six-month version of my daughter.
I went in and peeked at her in her crib this morning. She looked so grow up in her two-piece pajamas, laying on her back, blanket thrown halfway over her stomach. Her pacifier had been long-forgotten in the night.
At six months, she was just starting to eat solids. Starting to sleep longer stretches again. Learning to love singing and playing with toys. Starting to sit up on her own.
It's amazing how fast the time flies, how quickly she advances in skills, how blurry everything in the last six months seems as we've encountered change after change after change.
That little baby who was trying to sit up is now attempting to walk, has an attitude the size of California, and will happily eat a whole grilled cheese sandwich.
It's wild, and I know it will only continue in this blurry fashion. I hold her tight, trying not to let the time go too quickly.
___________________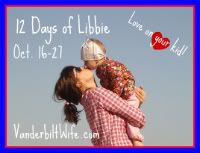 If you'd like to help celebrate Libbie's birthday, please write a post loving on your kid(s) and link to it here. You're welcome to use something you've already written, I just ask that you link back to my site. We all get so wrapped up in the everyday of parenting that I think it's important to remember the special moments. I'm excited to share these moments with you and to read yours! Code for the button is in the sidebar.