This post may contain affiliate links. Please see my Disclosure statement for more details.
In her seventh month, we took Libbie to her first wedding. Well, other than the one where she was inside my belly, a tiny thing of unknown sex that mostly equated lots of restroom breaks on our way to West Virginia last Spring.
She sat on laps in the back pew during the lovely, child-filled service uniting Mr. V's cousin to his bride. We had to leave just once, to nurse, during that time. We hid on the back stairs of the church and she happily sucked down her meal and returned joyfully to Grandma's arms for the remainder of the wedding.
During the reception, Libbie ate applesauce, bounced to the music, and fell asleep on my chest, exhausted by the festivities. It was a lovely wedding and a brand-new experience for both of us.
While things may be more complicated, everything is still better with a smiling baby involved.
___________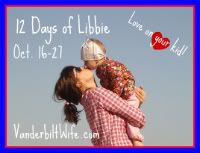 If you'd like to help celebrate Libbie's birthday, please write a post loving on your kid(s) and link to it here. You're welcome to use something you've already written, I just ask that you link back to my site. We all get so wrapped up in the everyday of parenting that I think it's important to remember the special moments. I'm excited to share these moments with you and to read yours! Code for the button is in the sidebar.