This post may contain affiliate links. Please see my Disclosure statement for more details.
Sweet Libbie,
Month 7 wedding, month 8 funeral.
But also a vacation.
On the trip over to Pigeon Forge, we learned the trick of feeding you snacks from the front seat to the back in order to keep you quiet those 15 extra minutes 'til we get there.
(Now when we do that, you sassily stretch your little arm out toward me for the next piece and get angry if it doesn't appear in your hand quickly.)
First pool experience. You loved it, obviously!
You continued (and still continue) to be a healthy, happy, hungry baby. I'll never forget the look on your face when you rode the pig ride at Dollywood. It was the first "big girl" moment: you, sitting alone in the seat (with Daddy behind you for safety, of course). Hanging on for dear life as the ride whipped around at the speed of Turtle Taking Its Time. A glimpse of those years ahead where you'll tell me "My do it, Mama!" (Only…I will try to teach you proper grammar, of course.)
At eight months you started to seem more little girl than baby. Assured of yourself. Full of sassy personality. It tears Mama's heart into pieces and yet is very satisfying, that my baby is a person.
It's all very perplexing, this motherhood thing.
I love you.
______________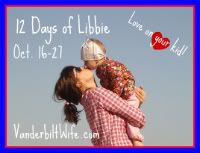 If you'd like to help celebrate Libbie's birthday, please write a post loving on your kid(s) and link to it here. You're welcome to use something you've already written, I just ask that you link back to my site. We all get so wrapped up in the everyday of parenting that I think it's important to remember the special moments. I'm excited to share these moments with you and to read yours! Code for the button is in the sidebar.