This post may contain affiliate links. Please see my Disclosure statement for more details.
Dear friends,
On this Friday, the 16th, I am going to start a 12-day series called "The 12 Days of Libbie." Each day, I will share a moment, a picture, a memory from one of the months of her little life, leading up to her first birthday on the 27th.
While this is mostly self-gratifying (and will make my mom happy), I want it to be about you, too. I want you to spend a few minutes reflecting on the lives of your children and your precious moments together.
So, for each of those 12 days, I will host a MckLinky list for you to link to a post loving on your kid(s). You can link one day, four days, every day. You can use an old post or a new post. I just believe it's so important to step back from the mundane and really reflect on those sweet moments. The important times.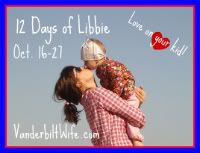 You can copy the button to your post or your sidebar using the HTML provided under the button in my sidebar. Please link back to Vanderbilt Wife in your posts, either by text or with the button, so we can all read about each other's kids and be encouraged.
I hope you'll participate with me during these last days of Libbie's first year. Oh my. I can feel the tears coming already!
Love,
Jessie