This post may contain affiliate links. Please see my Disclosure statement for more details.
I was really excited when the One 2 One Network asked me to cook a few dishes using Carnation Evaporated Milk. Well, because it makes me feel a little like a food blogger! And because I get to share recipes AND a great little recipe booklet with you. I love to try new things and this was a great way to do it!
They're trying to get the word out that evaporated milk is not just for baking, it's also great for savory recipes. You can substitute evaporated milk for regular milk in many of your holiday or everyday recipes to add a really creamy quality.
My "assignment" was to pick one recipe from their Holiday Booklet [PDF] and one recipe of my own. Today I'm going to share with you this delicious Loaded Potato Potluck Favorite. In all honesty, I would TOTALLY make this to take to a dinner with friends, for a holiday meal, or maybe a half-recipe for me and Mr. V. The potatoes were fantastic.
First, I diced up eight of these white potatoes. I only peel potatoes if they're the thick-skinned Idaho baking kind, and I enjoy potato peel in my smashed taters. You can use any kind of potato here. I scrubbed mine, cut them up, and dumped them in a pot with water to boil about 15 minutes or until fork-tender. (Do you know how to tell if they are fork-tender? When you try to stab one of them in the pot of hot water, it won't stay on your fork if you try to lift it out of the pot.)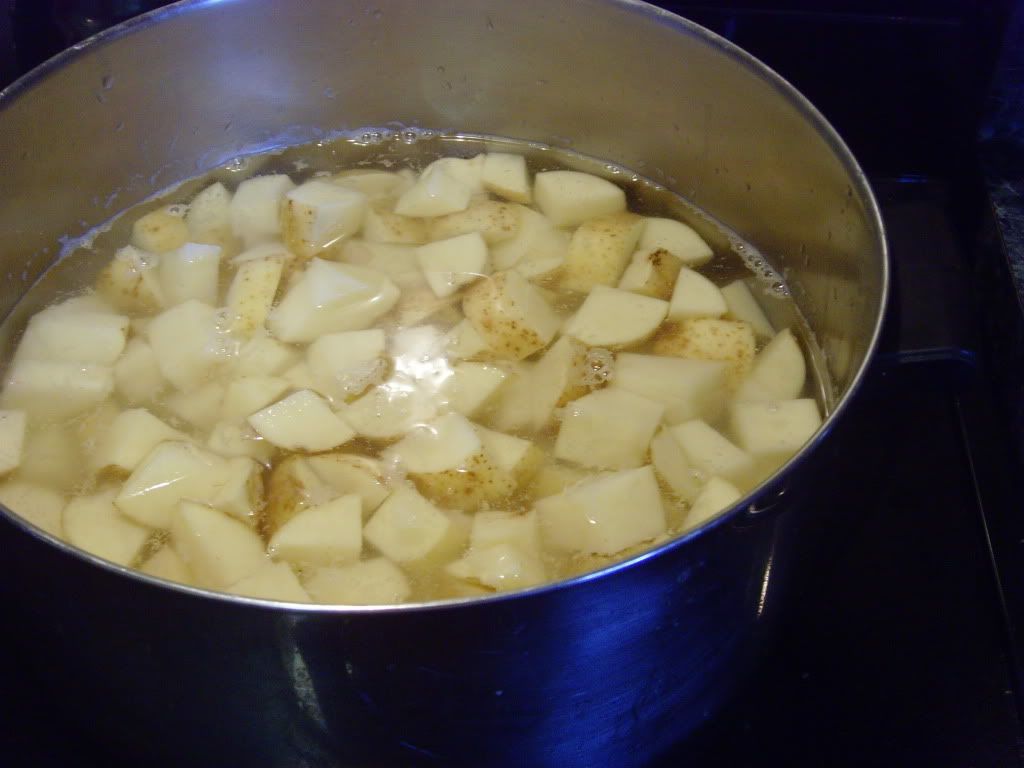 While the potatoes cooked, I gathered the rest of my ingredients and measured them out: Carnation Evaporated Milk, sour cream, shredded cheese, sliced green onions, and 4 slices of bacon that I cooked in the microwave until crisp and then chopped up.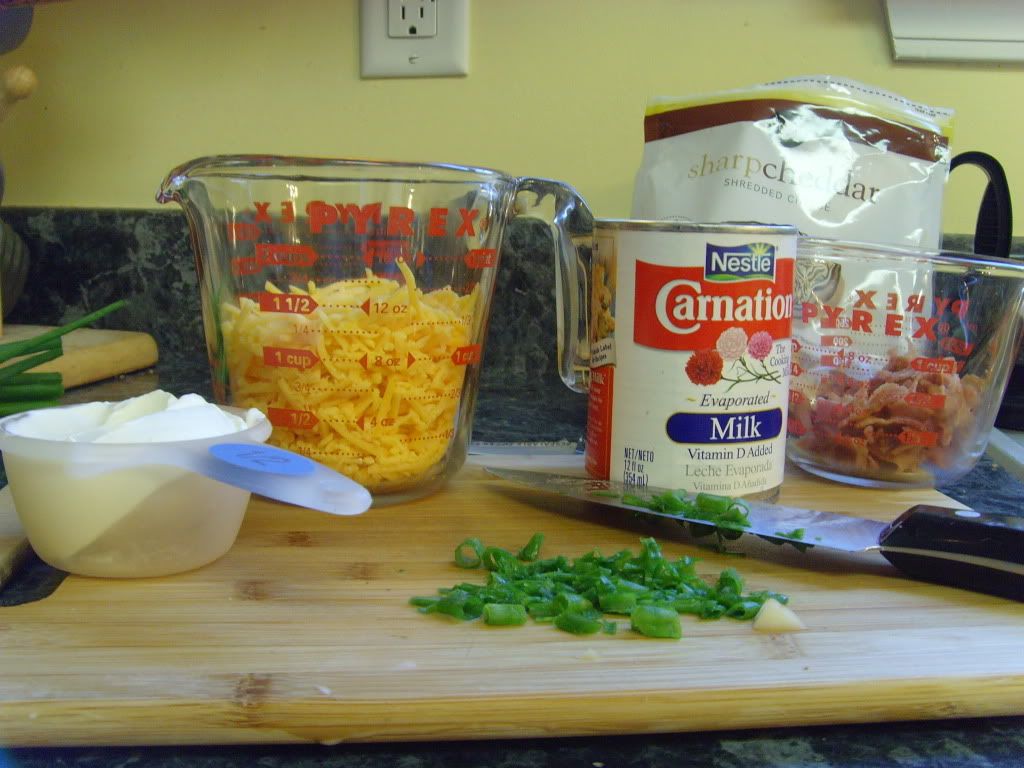 Drain the potatoes and return them to the hot pot. Add the evaporated milk, sour cream, and some salt and pepper, and then mash them. I just use a potato masher because I like my mashed potatoes a little chunky. If you like them smoother, though, you can use a hand mixer to whip them.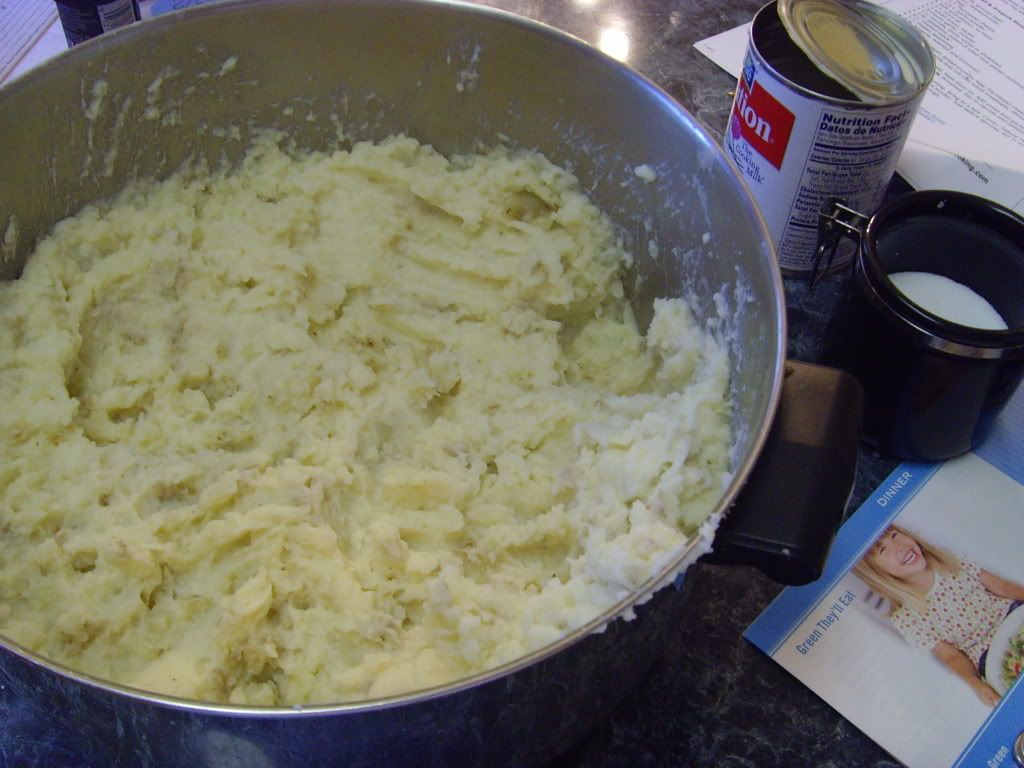 Next stir in all but 1/2 cup of cheese and half the bacon. Mix well. Taste to make sure you don't need more salt or pepper (I found it perfectly salted with 1 teaspoon, but I like things on the saltier side. I also really dislike pepper flavor so I just use a dash).
Spoon the mixture into a 70s casserole dish you found at Goodwill lovely 3-quart casserole (this one was a little small) and stick it in a 350 degree oven for 20-25 minutes. Top with the remaining cheese, bacon, and green onions, and bake an additional 3 minutes or until cheese is melted.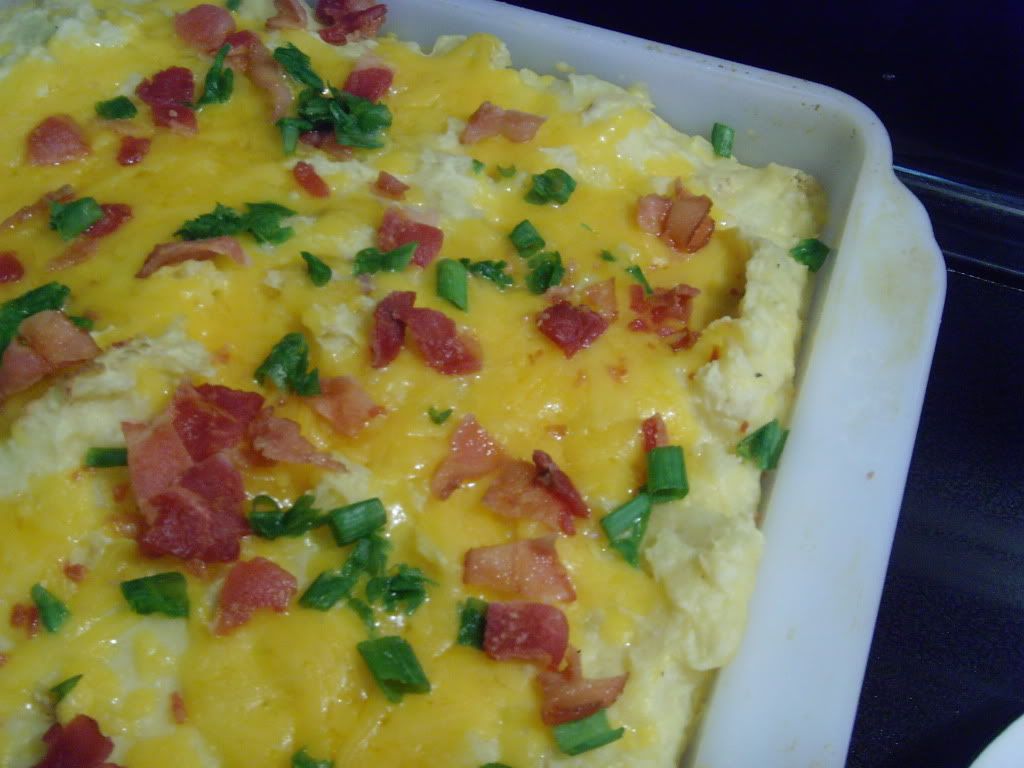 This dish was creamy, delicious, and how can you go wrong with bacon, cheese, and potatoes? I served it with some ham steaks cooked in BBQ sauce and sliced peaches. Mmm, mmm, good.
For a printable version of this recipe with actual measurements, go here.
While I would have never thought to use evaporated milk in mashed potatoes, it was a real winner! Stayed tuned for Part II of the challenge, my own recipe for Banana Couscous.

The One2One Network provided me with a gift card to purchase my ingredients and coupons for free Carnation Milk. I was not compensated otherwise. What I have stated here is my honest opinion.