This post may contain affiliate links. Please see my Disclosure statement for more details.
Remember how last week I made Potluck Potatoes for the Carnation challenge from One2One Network? And I promised I was going to show you my Banana Couscous recipe?
Yeah, I didn't think so. I don't expect you to remember every little thing I say here! But I did, promise.
Anyway, here's a great recipe for evaporated milk. I use this a breakfast cereal, although it could be a sweet side dish for dinner or even a dessert! I love, love, love couscous and its versatility.
So, gather the ingredients. Bananas, couscous, evaporated milk, cinnamon, and vanilla (optional). I would usually use whole wheat couscous, but I couldn't find any that wasn't flavored.
First, we need to chop up the bananas. These are VERY ripe, but any degree of ripeness will do. I would suggest the more ripe the bananas, the less you need the vanilla.
Next, take a big, microwavable bowl. Add 1/2 cup couscous, 1 cup evaporated milk, 1/4 teaspoon of cinnamon, the bananas, and a splash of vanilla to the bowl.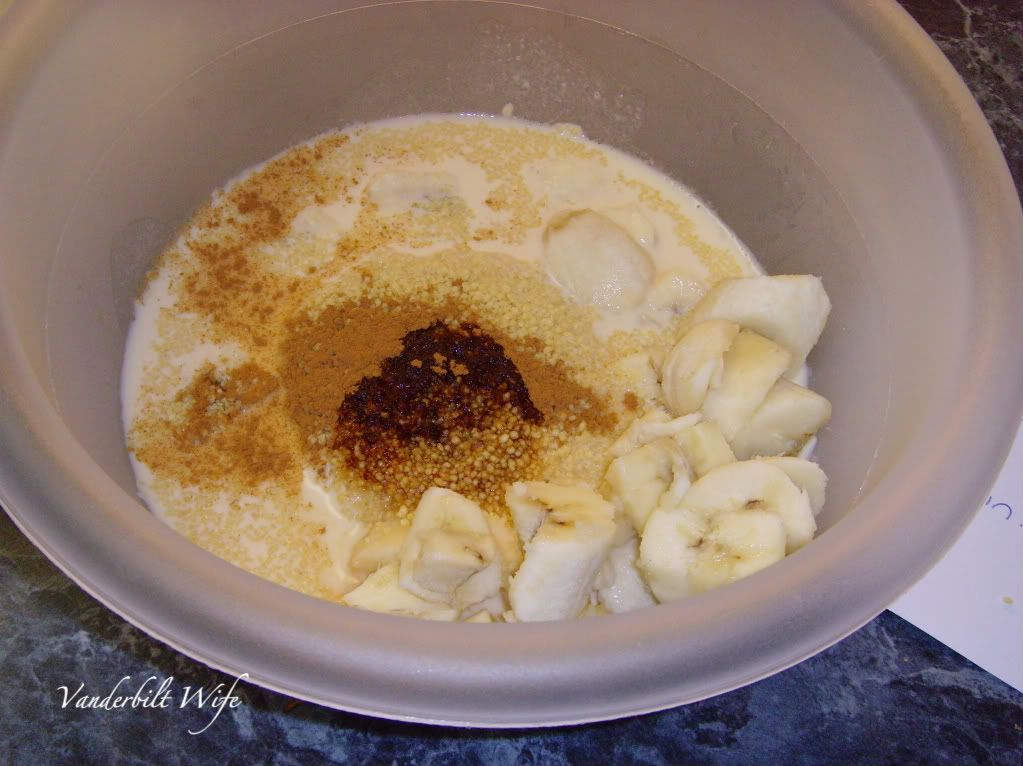 Stir it together well and cook it in the microwave for about 3 minutes. You might want to take it out and stir it once during this time.
Afterward, cover it and let it sit for a minute or two to thicken. Then take off your cover and check the consistency. It should be kind of like oatmeal–a little runny and totally up to your taste.
I grate some cinnamon stick over the top of my bowl for a more cinnamony flavor. Bon appetit!
I've also heard this is good with apples. I'd think you could try it with any fruit you have laying around and need to use up.
This recipe makes two adult-sized breakfast servings. If you are just making one serving, cut the cooking time down to 2 minutes and then check to make sure it doesn't get too thick.
Ingredients
2 bananas
1 c. evaporated milk
1/2 c. uncooked, plain couscous
1/2 tsp. cinnamon
1/4-1/2 tsp. vanilla
Instructions
Dice bananas. Mix all ingredients together in a large, microwave-safe bowl. Cook in microwave for 3 minutes. Remove; cover and let sit 2 minutes. Stir well and serve with more cinnamon sprinkled on top.
http://www.jessieweaver.net/2009/10/carnation-challenge-part-ii-banana/
The One2One Network provided me with a gift card to buy my groceries for this challenge. I was not compensated in any other way.