This post may contain affiliate links. Please see my Disclosure statement for more details.
I know I have my own carnival going on, but I've been waiting MONTHS to share some frugal style with you via Jen's "fashion show"!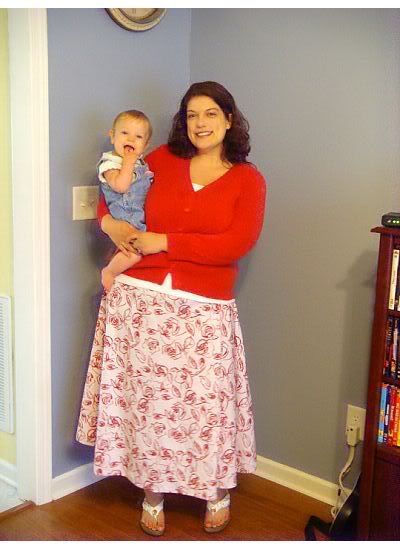 This was my go-to summer outfit that I wore everywhere. I just LOVED the skirt. Although it was one size too big, wearing a longer top you couldn't tell at all. The skirt was $2 at Goodwill on half-price day! My Ralph Lauren tank top was also $2 the same day. My cardigan was on clearance at Lane Bryant and I picked it up for $5 brand-new! And although my shoes were not as inexpensive, I wore them and one other pair throughout my entire pregnancy and am still getting good wear out of them. That makes them a deal in my book! (And they were from Payless in the first place…)
(sorry the picture is so blurry)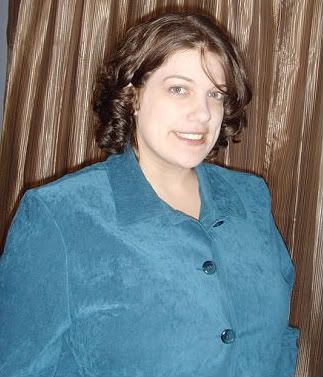 When we were visiting the new house in Chattanooga for the first time, I eyed a small consignment store that looked promising. Not only did I find my $7 Vigoss jeans there, I got this lovely suede jacket for $5. (As well as some great gray work pants.)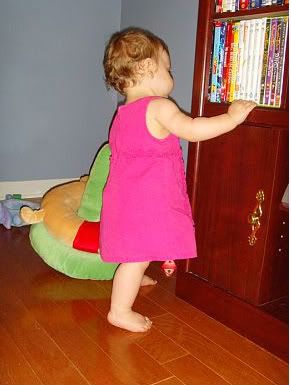 Probably 75% of Libbie's clothes come from either thrift stores, consignment sales, or are hand-me-downs. This pink Liz Claiborne dress came with matching bloomers and was 75 cents at a small local thrift store. More frugalista baby fashion here.
Right now pretty much all of my clothes are from thrift stores, as I'm still carrying baby weight and my body is just different than it was pre-pregnancy. If you look hard enough, you can find some GREAT pieces. My #1 tip is search out thrift stores in upscale areas. Our local Franklin Goodwill is a goldmine, even for plus-sized girls like me!
Visiting Balancing Beauty and Bedlam for great frugal tips on all aspects of life!