This post may contain affiliate links. Please see my Disclosure statement for more details.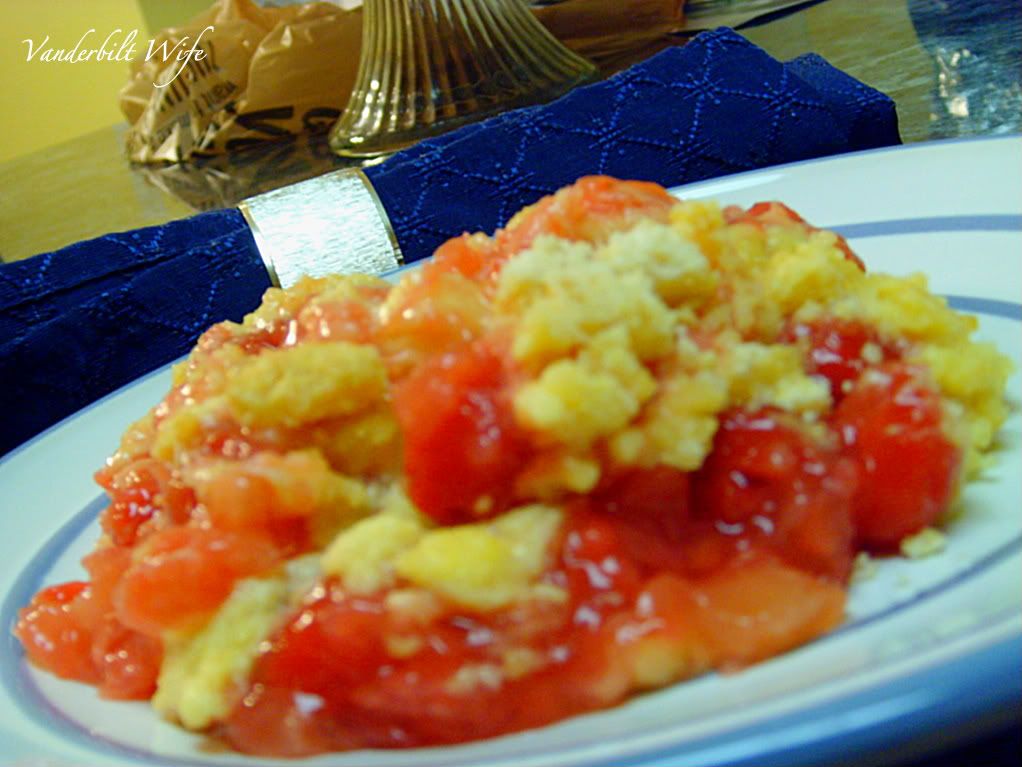 Last night (Saturday), I threw a little Surprise Belated Birthday Party for Mr. V.
His birthday falls two days after Libbie's–or I guess I should say, she had the nerve to be born just two days before her daddy! Haha. Honestly, I think he was pleased as punch to bring home his daughter on his 27th birthday.
This year not only we were separated on his birthday–a school day, after all–we really gave it no mention with all of Libbie's first birthday hoopla.
So we had a little get-together with some of our friends and it was great! Despite the fact that Mr. V is the last person you want to throw a surprise party for. He had pretty much no reaction. But I think he enjoyed the time with friends.
Since it was a surprise I couldn't very well bake him a birthday cake while he watched, so I decided to make dump cake (one of his favorites) and told him I was supposed to bring dessert to the dinner we were supposedly having with friends.
My mom made dump cake a lot for potlucks and parties when I was growing up. We discovered from a lady at our church now that you can use the same method to make peach cobbler. Mr. V just loves it.
So while it's not the healthiest thing in the world, it IS easy and really delicious.
Ingredients
1 can crushed pineapple
1 can cherry pie filling (regular or light)
1 boxed yellow cake mix
1 stick (1/2 c.) butter
Instructions
Pour the pineapple and pie filling into a 9×13 pan. Stir them together. (You're not allowed to use a bowl to do this or it isn't the easiest dessert in the world.)
Sprinkle the cake mix over the top evenly. Make sure all of the fruit layer is covered.
Cut your butter into little slices and dot the top of the cake mix with butter. Use the whole stick and try to spread the slices out evenly. (My mom melts the butter, but that dirties a dish and goes against my policy.) (Mom also adds a little shredded coconut to the top, which I like, but Mr. V hates it.)
Bake in a 350 oven for 45-55 minutes or until bubbly and the top is a little brown.
http://www.jessieweaver.net/2009/11/mouthwatering-mondays-easiest-dessert/
Just be warned you might want a cup of very strong coffee with this to cut the sugar rush you'll get!
To make it a peach cobbler, substitute 1 large and 1 small can of peach slices in light syrup for the pineapple and cherry pie filling. Drain the large can but use the juices from the small one.
For more delicious recipes, visit Mouthwatering Mondays at A Southern Fairytale.