This post may contain affiliate links. Please see my Disclosure statement for more details.
Thank you, JessieLeigh, for guest posting on your first Christmas as a mommy! What an amazing Christmas miracle. See the first installment of Mommy's First Christmas here.
______________________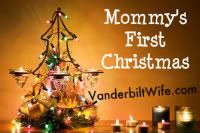 I remember December 22, 2005 like it was yesterday.
It was my very first Christmas season as a mother. True, the year before I had been eight months pregnant as we celebrated that sacred holiday, but this was to be my first Christmas with a baby. My son was approaching 11 months old and, to add to the excitement, I was already five months pregnant with our second child. We lived in a new state and my husband had a very long commute while I stayed home, alone and isolated, in our country home. Still, it was an exciting time and we were eager to scrape together what funds we could to make it a special first Christmas for our baby boy.
That December day, I ventured out to do some last-minute Christmas shopping and shipping. I arrived home exhausted and triumphant—I had completed what I had set out to do.
The next morning, I woke up and felt kind of achy and "off." It was quickly apparent to me that I may have pushed myself too hard the day before. I didn't worry too much about it—I was in that second trimester "honeymoon" period and wasn't at all big or uncomfortable yet … I'd only gained four pounds. Still, I figured I'd lie low and just get some snuggles in with my little guy. There was nothing pressing I had to get done.
Right around noon, as I crocheted the last scarf I needed to complete, I felt something that didn't feel right. It felt like I might be bleeding. A quick check revealed that I was and thus began a couple of very wild days …
The days leading up to my son's first Christmas soon took on a completely different pattern. My mother-in-law met me on my whirlwind trip to the hospital and took my son to stay with her. One sister-in-law helped with my little guy, the other drove me two hours to the "big-city" hospital. My husband met me there.
Less than two days and all sorts of medications later, it was December 23rd, 11:45 PM. I already knew I was not getting out of the hospital for Christmas. I was hoping to stay there for several more weeks, in fact. I wasn't leaving until my baby was born and the odds were not good at all for a baby born so early to survive. I already knew my first Christmas as Mommy would be spent on my back with my darling baby son visiting me in a hospital room.
What I didn't know was that, by the time Christmas Eve ushered in that midnight, I would be whisked away for a wild emergency c-section and, at 12:32 am, I would welcome my second child into the world at barely 24-weeks gestation—a little girl. A little girl who somehow defied the odds and survived the birth. A little girl who—literally—brought two of the doctors to their knees when her cry filled the room. Twenty-four weekers never cry, they told me …

That first Christmas as a mother was a terrifying one. The first 48 hours were very dangerous ones for my new little 1 lb 5 oz daughter. As she lost weight like any newborn and drifted down to 1 lb 2 oz, our hearts sank. When my in-laws brought my chubby nearly-11-month old son in to see me and I couldn't hold him due to the surgery I'd had, I bit back tears and sang carols to him as he snuggled by my side.
My first Christmas as Mommy was the most intense, frightening, emotional time of my life …
But it was also triumphant.

I've since had the joy of experiencing my son and daughter's 2nd, 3rd, and 4th Christmases (together each time because they're less than eleven months apart!). This year, we added a third child to our family and I look forward to her first Christmas being a much more peaceful one than her siblings'. It will be a simple affair—my daughter's early arrival that Christmas Eve of '05 taught me that we don't need a lot of trappings to celebrate—but it will be a meaningful one. Each of my children has added deeper meaning to my life and shown me more of what's important …
And the greatest gift I've ever received is the privilege of being Mommy.
JessieLeigh is a stay-at-home mommy of three little ones four and under. She can be found blogging at Parenting The Tiniest Of Miracles where she writes about finding joy in life with a micropreemie. In her real life, she's usually found baking, doing laundry, and constantly singing.