This post may contain affiliate links. Please see my Disclosure statement for more details.
I've been loving Laura's blog, Peacoat Papers, for several months now. It was so fun to see her welcome a little daughter, "Pigtail," into her home about the same time I welcomed Libbie last year. She is just an exquisite writer and a lovely soul. I'm so happy to have her guest posting on her first Christmas as a mom!
__________________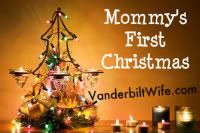 It's not that I had become a Scrooge, just an adult. The holiday season—while still full of merry—had become a flurry of To Do's. There were presents to be bought, and flights to book, and a whole schedule of activities that required happy participation.
A few years ago, my family decided to forgo gift-giving to the adults and focus only on the kids. Since the adult gifts had practically dwindled to a gift card exchange, the decision made sense. But for me and my husband—newly married and childless—it meant the last whiff of Christmas surprise was gone.
Still, we made great memories with our families and nieces and nephews. We have solid traditions and always enjoy the time spent with those we love the most. But I sheepishly admit that it has been years since I have felt any true Christmas magic.
Last year was no different. We had a wonderful time, but I woke up and went to bed sad on Christmas day. I wanted to be pregnant and I wasn't. I was learning a hard lesson on patience and timing.
This October, we joyfully welcomed our baby girl into the world. The first weeks were a blur, but as I emerged from the post-birth haze, it was Thanksgiving. Red and green boxes were pulled from the attic and I blinked at them in surprise. Now here we are, about to celebrate our first Christmas as a family of three.

Suddenly, the month of December sparkles. My heart fills at the thought of introducing our baby girl to friends and family for the first time. I notice more vividly the festive decorations at the mall, on the street, in restaurants. I tune my radio to the Christmas Carol station, something I haven't done in years. My heart is singing over the joy of the season, my baby's life making everything brighter.
Mary takes on new meaning in the Christmas story. I used to see her simply as a side character, a vessel. Now I understand that through His lifetime, no matter how many miracles He performed or lives He transformed, it was Mary who loved Jesus the most.
This year, like every other year, we'll be in Oklahoma with my family on Christmas morning. We'll have my mom's hot chocolate and homemade waffles. We'll open presents and watch all the kids run around. Everything will be exactly the same.
And completely different.
Laura Tremaine is a Hollywood housewife who is married to a man she calls The Gorilla and has an eight-week-old baby she calls Pigtail. She blogs at www.peacoatpapers.com and has big plans for 2010.