This post may contain affiliate links. Please see my Disclosure statement for more details.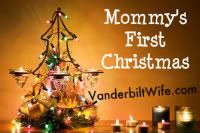 I'm working on a series of guest posts on what I call "Mommy's First Christmas"—how Christmas changes for you once you are a parent. So you'll see a smattering of these over the next few weeks. Here is my reflection from last Christmas, originally entitled "Mary."
______________
I think it's probably only natural that this Christmas is different for me.
Not only I am too bogged down in newborn-ness to really decorate, bake, or buy presents, I've had a child this year.
Now when I reflect on the nativity on top of my china cabinet, I think a little differently. I consider how much pain Mary must have been in on her donkey, traveling many miles from Nazareth to Bethlehem (a quick Internet search says anywhere from 60 to 90 miles). I was so uncomfortable in my last weeks of pregnancy I could barely sit in my desk chair. I spent most of it on the couch watching movies and old Project Runway episodes. If she was having contractions, all the worse!
Now I am sure God could have given Mary a very easy labor if He wanted, and maybe He did, but why should we think it was any different than what we go through to give birth? She probably hurt tremendously. She certainly had no epidural. She was in a stinking stable! And can you imagine Joseph's face as he had to cut the cord? Deliver the placenta?
Joseph and Mary were humans, and I think sometimes we forget that. And this year I can identify with Mary and look at the scene differently. Imagine her feelings of honor, excitement, pain, joy, and exhaustion all at the same time. And responsibility.
And then there was the Savior of the world, in her arms. Not just the joy of holding your own baby, whom you have carried in your belly for many months and felt kick and respond to your voice. The joy of holding in her arms her very own Savior.
I really, REALLY love the CD The Nativity Story: Sacred Songs. I would encourage you to go to iTunes or Amazon and at least get "The Virgin's Lullaby" and this song, which has brought me to tears many times this season already.
Labor of Love (go listen here on Peterson's own blog)
Andrew Peterson
It was not a silent night
There was blood on the ground
You could hear a woman cry
In the alleyways that night
On the streets of David's town …
Originally posted December 13, 2008. Added to 5 Days of Christmas at A Slob Comes Clean.