This post may contain affiliate links. Please see my Disclosure statement for more details.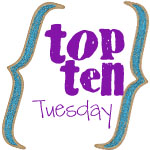 I promise I will have a Blissdom recap post. Once I gather pictures from friends (since I took 19, and at least 5 were of Tricia's daughter Tessa, and another 2 were TheChattyMomma's Gabby–I like babies). And once I can get my head on straight again.
One of the things recommended to us was to send love to our top referrers each month. What a wonderful idea and a great way to pay back some of the love they've sent us.
So, according to Google Analytics, my top referrers for January 2010:
1. Once a Month Mom
2. Amy's Finer Things
3. Musings of a Housewife
4. The Nester
5. Mommy Snacks
6. Balancing Beauty and Bedlam
7. Cooking During Stolen Moments
8. I'm an Organizing Junkie
9. The MawMaw
10. The Other Mama
Thanks, ladies!
I hope you'll visit at least one of these sites and give them some comment love!
Linked up with Top Ten Tuesday at OhAmanda.
—-
Subscribe to the RSS feed or by e-mail.
Twitter much? I'm vanderbiltwife there, too.
Join my Facebook Fan Group