This post may contain affiliate links. Please see my Disclosure statement for more details.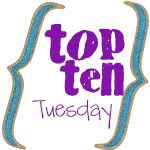 I have a bad habit of letting blog posts float around in my head until they gradually drain out and I lose every brilliant thing I was going to say (ha). Then I end up with jibber-jabber that is nothing like what I intended to write.
So for my benefit, here are ten posts I need to write! Maybe this will help drive me forward on at least one of them. And you can throw your two cents in on what you'd like to read about. (Um, HELLO overuse of prepositions.)
1. Instructions and recipes for my Whole Foods in a Hurry series. This will come on Wednesday whether I like it or not! I need to make some edits after I actually did my cooking this weekend.
2. A recap of that once-a-month cooking I did Saturday. It will probably be posted next Wednesday WITH VLOGS. Yes. Be scared.
3. A history of my family's AOL screen names. 'Cause they're hilarious.
4. A recipe for garlic green beans, pictured here:
5. A showering of love for my daddy, which I've had in my head for over a year. I'm insane.
6. Musings on the gift of hospitality and people who have shown it to me over the years.
7. Dealing with an immensely picky eater and trying to get over that hump.
8. Connecting a recent rereading of The Thanksgiving Visitor
with an essay I wrote about it in 8th grade.
9. Stuff about my transition to SAHM, especially on establishing a schedule. (Mostly begging for advice.)
10. Top Ten Reasons I Love OhAmanda. A la this post.
Am I the only lunatic who keeps posts in her head all the time and yet fails to ever write them down?
For more Top Ten Tuesday, visit OhAmanda.com.
—-
Subscribe to the RSS feed or by e-mail.
Twitter much? I'm vanderbiltwife there, too.
Join my Facebook Fan Group
A few of my favorite things on my Tumblr page