This post may contain affiliate links. Please see my Disclosure statement for more details.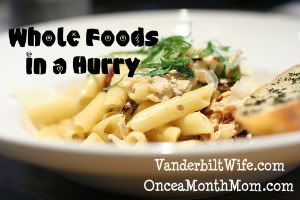 I've really been longing to go to a "whole foods" or "real foods" sort of diet for a long time. It just makes sense: eating unprocessed foods, what our grandparents were eating before we figured out to make cream of chicken soup in a can and how to import vegetables from Chile.
While I'd like to say I'll be able to jump right in to eating raw dairy products, grass-fed beef, and organic everything, with our budget right now I'm just working on making baby steps. I've already cut margarine, vegetable oils, shortening, and high fructose corn syrup out of our diets (mostly).
When Tricia asked if I would partner with her on her
Once a Month Mom
blogiversary party, I knew it would be a great chance to do what I've wanted to do for awhile: plan a "whole foods" once-a-month-cooking menu and MAKE IT!
So during February, I'll be talking once a week about how I'm planning the menu, budgeting and shopping for it, and cooking it. I'm so excited to share this with you. And I also have some great news!
If you want to create your own once-a-month-cooking menu (does not have to be whole foods), you can enter it in the Once a Month Mom & DOLE Frozen Menu Contest for a chance to win $250 cash, a Once a Month Mom apron, a pair of Crocs, and five coupons for free DOLE Frozen products!!
Your menu will also be used as the March 2010 Once a Month Mom menu (great for YOUR blog traffic–I get more hits from
OAMM
than Google, even!).
First and second runner ups will also get some fun prizes!
So, who's in this with me? I'm excited and nervous, but I need to do this. Having the foods in the freezer will help me commit to the whole foods lifestyle, as well as give me more time to bake bread, make breakfast, and exercise–all goals I have for myself.
I am not being compensated for this adventure except with a few DOLE coupons. But I want one of my readers to win the contest!! And for me, whole foods is going to mean unprocessed as much as possible. I won't likely be using all grass-fed meats or all organic, although the menu will be easily customizable to those things.
—-
Subscribe to the RSS feed or by e-mail.
Twitter much? I'm vanderbiltwife there, too.
Join my Facebook Fan Group