This post may contain affiliate links. Please see my Disclosure statement for more details.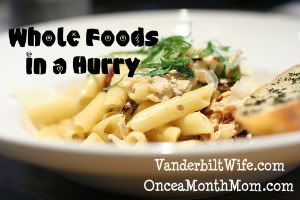 Tricia's done such a good job outlining how to make a once-a-month-cooking menu there's no way I need to repeat her here! I used many of her steps in creating my Whole Foods in a Hurry Menu.
Here's what I took into consideration, though, that she doesn't: I wanted as much as possible to be fresh and unprocessed. No cream of mushroom soup. No canned crescent rolls or jarred pasta sauces. (Not that Tricia uses a ton of recipes with these. Many of her menu recipes are whole-food happy!)
Once I got into it, I found the hardest part was picking meals that would not be too labor-intensive on your Big Day for cooking. I wanted to bake too many things. Have too many pots on the stove.
So you will probably notice there is a lot of ground beef and chicken in this menu. That's for two reasons: it's just easier to brown a LOT of ground beef at one time and split it up, and those are things that most people like. Like I mentioned before, I probably won't be using grass-fed beef or free-range chicken unless I can find a great deal on it. But you're welcome to do so!
So without further ado, here's the menu I'll be cooking at the end of the month! And I hope you'll be right in there with me, cooking up a storm.
Breakfasts:
Apricot Breakfast Bars
Blueberry Cream Cheese Coffee Cake (Blueberry or Raspberry)
Christmas Eggs
Lunches:
Sloppy Joes
Make-Ahead Wraps
Pizza Pockets
Baked Chicken Burgers
Dinners:
Gnocchi with Sausage and Swiss Chard (Rachael Ray 365
)
Taco Bake
Italian Cream Cheese Chicken Casserole
Sweet Aromatic Chicken
Tuscan Lemon Chicken
Pork BBQ with Lexington Red Sauce
Unstuffed Cabbage
Tilapia and Pepper Packets
Some of these recipes will have slight adjustments for ease in the kitchen, but that gives you the basic idea! And if you want to start shopping, here's the grocery list I've compiled.
Stay tuned next week for how I'm going to budget this … dun-dun-duh!!
For the first post in the series, see Week 1–Why?
Added to 4 Moms Freezer Meal Recipe Link-Up at Raising Olives.
—-
Subscribe to the RSS feed or by e-mail.
Twitter much? I'm vanderbiltwife there, too.
Join my Facebook Fan Group