This post may contain affiliate links. Please see my Disclosure statement for more details.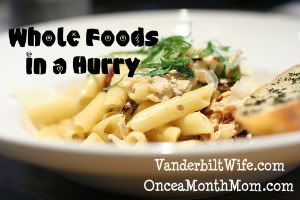 Disclaimer: This post included Amazon affiliate links.
Although I've collected a few items from my grocery list here and there (whole wheat gnocchi
from Amazon, canned beans from Aldi), spending the amount of money needed for cooking a whole months of whole foods has scared me and thus I've avoided doing much shopping.
The last (and only) time I did once-a-month cooking, Meredith did all the shopping and I wrote her a check. Have I mentioned that I love her? It was easy-peasy. So far on this adventure, it's all me. No partner. Eeek.
There aren't a whole lot of coupons out there for organics and the kind of foods I'm trying to find: whole fruit and vegetables, hormone-free meat, and so forth. (They DO exist. Here's a great article on finding them.) And since I'm fairly new at this whole foods endeavor, I just don't know what the cost will be.
So I went on an informational trip to our local health-food store, Greenlife, Monday afternoon. I wanted to investigate prices on meat, dairy products, and bulk items.
I was very happy to find bone-in chicken thighs for $1.99/lb. I bought eight for the Sweet Aromatic Chicken, which for us will make two dinners.* I skinned them and trimmed some fat off before separating them into Ziploc gallon freezer bags and going ahead and freezing them. On my cooking day, I won't let them thaw; I will just mix the other ingredients and dump them on top of the chicken in the bags.
The least expensive ground beef I could find was $5.99/lb. It is, however, grass-fed and local beef, which made me happy. I am going to try it out this week for the Cheddar Ranch Burgers and see how I like it as compared to conventional. I am still undecided on whether I will buy this beef or the hormone-free GreenWise beef from Publix.
The one thing that I was thrilled to find was sucanat for $1.79/lb in the bulk bins. Sucanat is non-refined cane sugar and often touted by Heavenly Homemakers, Jo-Lynne, and Naturally Knocked Up. While no sugar is good or especially nutritious, sucanat is at least not refined. The only place I had ever seen it was on Amazon, where you have to buy 12 pounds for $42.46
, making it $3.54/lb. Buying less than a pound for a little more than a dollar and a half made me much less intimidated to try it out!
I am still working things out monetarily. I am hoping to spend less than $200, since our budget for grocery and household items is $240/month. I do fiercely believe, though, that eating a whole foods diet will decrease doctor bills and prevent disease, so I am willing to trade other "wants" for this "need." We'll see what it all works out to and I'll be sure to tell you! I am still positive it will be less than cooking this type of food week-to-week.
It does make me wish for a chest or extra freezer to store a half cow in, as many people have. One reader told me buying it this way she has a whole freezer of beef for $3/lb–all cuts, grass-fed. Unfortunately I have absolutely no where to put an extra freezer right now and so we will make do with what we have!
Stay tuned next week for the recipe documents and instruction list! (EEEEK!)
Did you miss a week? Here's Part 1: Why? and Part 2: The Menu.
The time for submitting your freezer menus to Once a Month Mom is up, but you can still compete in the Cook-Off if you want to win some awesome prizes!
*The recipe calls for 8 thighs for one batch. We will be quadrupling this base recipe because in my mind 8 thighs feed 4 people. Since we only have two adults in our house, though, I just did 4 thighs per recipe for us.
—-
Subscribe to the RSS feed or by e-mail.
Twitter much? I'm vanderbiltwife there, too.
Join my Facebook Fan Group
A few of my favorite things on my Tumblr page