This post may contain affiliate links. Please see my Disclosure statement for more details.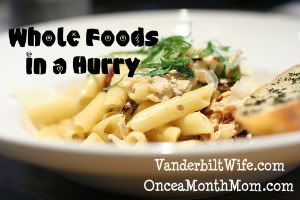 Oy vey! I just added up all the groceries I bought for this challenge. I knew it would be higher than doing a "normal" OAMC and my goal was to keep it under $200. I did, at $184.14 (this does not include items I already had on hand).
So that's good, right? Well, except that I didn't buy all grass-fed or free-range meats, organic dairy or veggies, etc. My chicken thighs, as mentioned, were organic; my beef was the Publix GreenWise ground chuck, which is raised without hormones or antibiotics and is organic. I did buy organic ketchup since regular ketchup has HFCS and other icky stuff, and I bought cage-free eggs (but at Wal-Mart, and honestly I don't really trust their brand).
The rest of the chicken, the pork, the vegetables–none of it was "up to par" in what many would call "whole foods."
But you know what? It's still a big leap for me, and I'm working my way across the ravine. Using all whole grains, very few canned items, no HFCS, no soy–it's definitely a vast improvement! And I'll keep working until I can get to a place of being able to store that half a cow in a freezer and have beef for $3/pound. As it warms up, I'm excited to scavenge the farmer's market and seek out some local farms for real cage-free chickens and eggs.
I hope some of you are planning on cooking this great menu! I've already done some taste-testing and I'm excited about digging into the rest of the items in my freezer. It's VERY stocked!
Here are the recipes modified for your Big Day and here are the instructions. Here is the grocery list if you need that, too!
Next week, I'll share with you how my Big Cooking Day went–including vlogs of me (with icky hair…in t-shirt…no make-up…and exhausted! Aren't you lucky?).
Missed a week? Here's the Why, the Menu, and the Budgeting.
The time for submitting your freezer menus to Once a Month Mom is up, but you can still compete in the Cook-Off if you want to win some awesome prizes! Tricia revealed the three top menus we chose on Friday, and you can vote on which one you want to be the March menu every day at Once a Month Mom.
—-
Subscribe to the RSS feed or by e-mail.
Twitter much? I'm vanderbiltwife there, too.
Join my Facebook Fan Group
A few of my favorite things on my Tumblr page