This post may contain affiliate links. Please see my Disclosure statement for more details.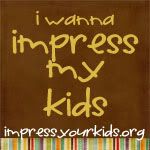 As a brand-new stay-at-home mom, I feel like I'm learning a whole new language. I've missed the year of sweet babyhood as I worked until my daughter, Libbie, was 14 months. Instead, I've been thrown into the insanity of having a toddler all to myself for ten hours a day.




The word intention has been screaming at me from every direction as of late.…
To read the rest, go visit my guest post at Impress Your Kids today!