This post may contain affiliate links. Please see my Disclosure statement for more details.
Everyone has their own version of Saturday Stumbling/Linking/Bird Watching, etc.
And I honestly appreciate these kind of posts. I just cut my Google Reader list back to 24 blogs. To some of you that may sound like a high number; for me it's VERY low! For the past year or two I've had anywhere from 75 to 200 blogs in my Reader.
So lately I've been relying more on following links on Twitter and on link posts when I have time. (Wednesday nights especially seem to be my designated blog visiting time.)
Saturdays seem like a fine time to share links that I loved from the past week.
So here's Week 1!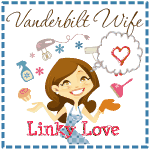 Ministry So Fabulous: Intentional — Ever have a word just come up a thousand times in one week? This week it was intention. And this post made me cry big tears. I love Amy Beth.
Once a Month Mom: March Menu — Remember the contest I kept mentioning in my Whole Foods in a Hurry series? The winner has been announced, and it looks like another great menu for OAMM!
Scribbit: "Follow Your Dreams" Really? Are you sure? — GREAT but lengthy post from Michelle, the lovely and intriguing voice behind Scribbit. Definitely a thought-provoking post, and I appreciated the e-mail back from Michelle considering how many comments she got!
I've been wanting to make this Warm Vanilla Soother from Heavenly Homemakers for a long time. Now the only question is: vanilla or chocolate?
Your turn: leave me a link for something you loved this week in the comments!
—-
Subscribe to the RSS feed or by e-mail.
Twitter much? I'm vanderbiltwife there, too.
Join my Facebook Fan Group
A few of my favorite things on my Tumblr page