This post may contain affiliate links. Please see my Disclosure statement for more details.
For at least two weeks, God's been trying to get my attention about intention. There was this post from Amy Beth which I love insanely and have shared several times. A radio program called "Intentional Living." Reading Impress Your Kids. And just all of these realizations about being at home now. For me, being at home has magnified how lazy I really am.
Remember my Top Ten Surprises about Staying Home? Apparently confessing my shortcomings has not made me want to battle them any more. I want to have a clean house, fresh laundry, nutritious meals, and never-ending patience–as well as be a good listener, helpmate, lover, and supporter to my husband. As soon as I look at all of these things in one place, my head seriously starts to explode, and I go check out Facebook instead.
I'm working on writing a guest post for Impress Your Kids about steps I am taking to be more intentional, but I'd love to know what your tricks and inspirations are, too! Please share them in the comments.
Here are my Top Ten people and things that inspire me to be a more intentional parent.
1. The Bible. Well, of course. Not only does regular Bible study help me keep focused on what is right and true, the more I read the more I want to teach Libbie. If she's awake when I am doing my study, I will read to her right from my "big-person" Bible. She enjoyed listening to some of Esther
yesterday!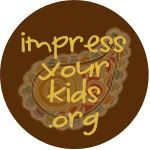 2. Impress Your Kids. Just go read it all and get back to me. I want to impress the Truth onto Libbie's heart!
3. The Finer Things in Life. Amy inspires me to be a better mother, wife, and homemaker. She has a gentle, guiding spirit and it was such a blessing to get to meet her in real life! (If you are thinking about becoming a SAHM ever, you should read her Mommy, Come Home Series.)
4. Family Fun
magazine. (Follow @FamilyFun on Twitter.) Chock full of great ideas for every age, Family Fun is a GREAT magazine for inspiration. I think I got my subscription for free at some point, but I will definitely renew when the time comes!
5. (in)courage. The (in)courage posts are not all, or even primarily, about parenting, but the amazing authors there encourage me to be better and MORE in all aspects of my life.
6. Twiggie Makes. Candace's enthusiasm for life and love for her kids (and finding TIME to cook and craft) make me happy and ready to push forward! She's amazing and has become a true friend.
7. Reading. I am trying to read more parenting books, but I think reading in general sparks creativity–and it also gets me off the computer! I have read some GREAT books recently, including The Stolen Child
, Sonata for Miriam, The Book Thief
, and The Happiest Toddler on the Block
. (If you like to read and you haven't read it, please drop what you're doing RIGHT NOW and go read The Book Thief. It's the best book I have read possibly ever.)
8. Disconnecting. I've found more and more lately that the way for me to focus is turn off the computer, TV, even music. I need the calm.
9. Playing. Just sitting on the floor with Libbie often gives me ideas of other things to do with her. I become familiar with what interests her and what she doesn't like. Also the more I try to have "special time" with her, where I allow no distractions for myself, the better behaved she is the rest of the day.
10. Creating mantras. My attitude is SO much better when I go into a task repeating, "Whatever you do, work at it with all your heart, as working for the Lord, not for men" (Colossians 3:23) than if I think, "Why do I have to do this? Ugh, I hate housework."
I hope this helps inspire you, and I would LOVE to know some of your inspirations whether it be for parenting, housekeeping, being a better spouse, or just improving yourself in general.
For more Top Ten Tuesday, visit OhAmanda.com.
This post includes Amazon affiliate links. Read more in my disclosure policy. —-
Subscribe to the RSS feed or by e-mail.
Twitter much? I'm vanderbiltwife there, too.
Join my Facebook Fan Group
A few of my favorite things on my Tumblr page