This post may contain affiliate links. Please see my Disclosure statement for more details.
I have gone insane lately with bookmarking amazing-looking recipes. I guess I just have the cooking bug now that my freezer is (finally!) almost empty.  Yesterday I made lasagna and salmon mac-and-cheese, this morning I made giant breakfast cookies…
Sadly, it all makes more dirty dishes. If anyone figures out how to cook without dirtying dishes, I'd love to know.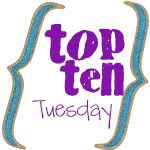 Anyway, here are 10 wonderful-sounding recipes I've bookmarked recently. Which one should I make first?
1. Chicken Brown Rice Bake from Finding Joy in My Kitchen — doesn't this look like AMAZING comfort food? Yuuuuuum. (It's also gluten-free, if you need those recipes.)
2. Easy Taco Bake from Cooking During Stolen Moments
3. Better than Chicken Marsala from Ruminations from Earth
4. Chicken and Dumplings from Passionate Homemaking — think I have a thing for comfort food right now??
5. Banana Cake with Cream Cheese Frosting from Moms Who Think
6. Homemade Pretzels from A Southern Fairytale — oohhh, I love pretzels. All kinds. YUM!
7. Potato Crusted Chicken from Cooking During Stolen Moments
8. Cuban Ropa Vieja from AllRecipes
9. Tangy Lemon Curd from The Nourishing Gourmet
10. Baked Eggs in Bread Bowls from Noble Pig
Time to go to the grocery store so I can make all of this today. Right? 😉
Added to Top Ten Tuesday at OhAmanda.