This post may contain affiliate links. Please see my Disclosure statement for more details.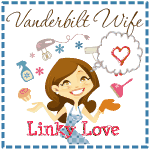 Hillary's new business, Mint Julep Monograms, is really off and booming! She is making the absolute cutest things. Go check them out at her Friday Favorites post. And I just might be giving away something from her site soon …
The Nester talked about growing flowers at a rental house. I love the spirit of her post. I love gardens, even if sometimes I have a black thumb, and "what if" isn't a good reason not to have them!
The Rules by Ashleigh at Heart and Home is an important thought process if you were brought up in the church. I won't get into it too much … but one of my pet peeves is people who think one sin is worse than another. God sees sin. Period.
Christine shares some natural methods of getting rid of ants. ANTS ARE THE BANE OF MY EXISTENCE. OK, that may be pushing it a little far, but I HATE THEM. And I hate having out ant baits when I know Libbie could easily pick one up and stick it in her mouth! I've had decent success with sprinkling cayenne pepper to run them off, but I like the index card idea, too!
Tricia and Amy are having a Baked Beans Showdown–with prizes! You just have to cook both of their recipes and declare a winner. I am going to make them when I'm at my parents' next week … but I'm pretty sure I will pick Tricia's. Because, well, we're family and it's the same recipe my mom always makes. And so yummy!


Read anything good this week? Please leave a link in the comments!
Added to Saturday Stumbles at It's Come 2 This.