This post may contain affiliate links. Please see my Disclosure statement for more details.
Many of you probably know Jen Murray, "Quatro Mama," from her wonderful blog 4Tunate or Twitter. She is the mama of 4 3-year-old boys and parents with grace.
Jen is an amazing woman that is always giving to others. She recently raised over $2500, giving away a laptop out of her family's own pocket, to help support a March of Dimes campaign. She is always giving, giving, giving. Even when she doesn't have much left to give. Recently, she and her family have experienced some trying times.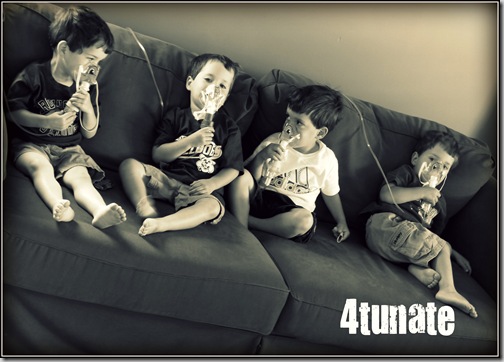 Her family was inundated with illness. Can you imagine trying to take care of 4 toddler boys while you weren't feeling well? (Maybe you have you know the feeling.) Her mother-in-law was diagnosed with  progressive breast cancer. They wait for news on what is next. And it was discovered that her father is having a relapse with prostate cancer.
We all experience tough times. Perhaps you are going through them right now yourself. And when your friends have gathered around you with prayers, support, and encouragement, you know the uplifting effects it has on your life.
Our goal with this #4tunatefriends campaign is to fill Jen's freezer, refrigerator, and cupboards with food. ALL proceeds gathered will go to do just that!
We are asking that you just donate $4! It is easy to do so through PayPal here. Please help us lift Jen up and celebrate her as a fellow mother and blogger.
If you'd like to write a celebrate Jen post, you can link it up here to the BlogHop and it will be shown on all the blogs with the BlogHop link!