This post may contain affiliate links. Please see my Disclosure statement for more details.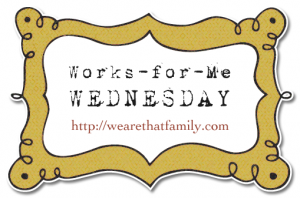 You know how I say that I'm trying to be the housewife I'm not? Originally, that meant literally. I worked full-time, thus I was not a housewife.
Well, now I am. (That thought still scares me a little.) And it turns out I am not really any better at keeping my home clean now than I was when I worked 8 hours a day. Our home in Chattanooga is bigger, older, and apparently attracts more bugs than our little Nashville condo; we also have a toddler now, who loves to go behind me, undoing any cleaning I seem to have accomplished.
But in all truth, it's just me. I find it much easier to come to my computer during down time rather than pick up my mop or a sponge. While I love to cook, I just don't love to clean up after myself. And that leaves me feeling incredibly inadequate as a housewife.
When Mandi linked to these Motivated Moms chore lists, I wasn't especially interested. But then I thought about it. Maybe what I needed was someone to tell me what to do to keep my house clean. And for $4, it was worth a try!
Some perks to the list?
I stick it to the fridge with a magnet, so my husband can see it too. That gives him the chance to keep me accountable … or pitch in himself and check an item off!
If I don't get to something one day, I can always come back to it over the next day or two. (Even though that's obviously not the point, it works for me.)
It gives me a sense of accomplishment to check something off the list.
The creator of this program has thought of things that would never cross my mind. I know I need to clip Libbie's fingernails, for instance, but I never do it on a regular basis–I do it when she scratches the heck out of me or Adam. This list gives me a nudge to clip those suckers before they cause havoc.
Because it's halfway through the year, Motivated Moms has the chore planners marked down to half off ($4). You can get planners in regular paper size, planner size, and with or without Bible readings!
Something else that keeps me sane is making my own cleaners, because I despise buying cleaners all the time. You've probably seen these tips before, but here are some great cleaners that work for me!
Instead of dusting spray, I dip a cloth in a mixture of lemon juice and olive oil. It shines furniture right up and gives it a nice citrus scent as well.
For glass cleaner, mix 2 cups water with 3 tablespoons white vinegar and 1/4 teaspoon dish soap.
To unclog a sink or tub, sprinkle baking soda down the drain. Dump in some white vinegar and it will foam the clog out!
For more tips on life in general, visit Works for Me Wednesday at We are THAT Family.
**The Motivated Moms links are affiliate links.
—-
Subscribe to the RSS feed or by e-mail.
Twitter much? I'm vanderbiltwife there, too.
Join my Facebook Fan Group