This post may contain affiliate links. Please see my Disclosure statement for more details.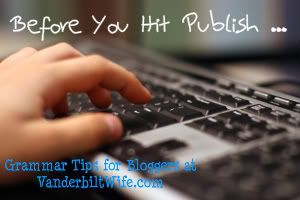 We have a serious problem.
In school, many of us have had "me" bashed out of our brains.
Teachers struggle with teaching young children to use "so-and-so and I" to replace "we." Which is correct, of course. But I think they stress it so much that many of us have grown up afraid to use the word me.
Every time I watch TV … every time I see someone use the (NOT A REAL) word I's … every time I see the phrase "between you and I," I have to cringe a little.
Here is my basic rule: if you were to take out the other person's name, would you use I or would you use me?
Example: Today Caroline and I decided to go to the mall.
Verdict: CORRECT. Because "Today I decided to go to the mall" is right.
Example: Purple is Amanda and I's favorite color.
Verdict: Just shoot me. NEVER EVER EVER use I's. Correction: Purple is Amanda's and my favorite color. Yes, I realize this sounds a little awkward. But take away the other subject and see how it works. "Purple is Amanda's favorite color." "Purple is my favorite color."
Example: I think Susan is trying to attack Fred and I.
Verdict: WRONG. If we were to take Fred out of the picture, you would know that the correct word there is me, right? [I think Susan is trying to attack me.] Correction: I think Susan is trying to attack Fred and me.


Grammar Girl does point out that following a linking verb, a verb describing a state of being such as is, one generally uses the subject pronoun (I, you, they, he, she) rather than the object pronoun (them, us, her, him). She also confides, though, that even grammarians give you slack on this rule. So don't worry about it too much. "It is I" or "It is me," not that big of a deal. Above rules: bigger deal.
Do you struggle with this? Or do you, like me, watch Big Brother and want to throw things at the TV?

Watching Like a Writer: OK, I know this is silly and perhaps just me. But watch some TV in the next week and come back and tell me one mistake you hear someone make. I know they're out there!!
Want to know one of my other pet peeves? When, in Project Runway, Heidi says the six contestants being judged "represent" the best and the worst scores. NO. They WERE the best and worst that night. I'm not sure she … or the writers … quite understand the word represent.