This post may contain affiliate links. Please see my Disclosure statement for more details.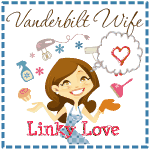 Here's your thought for Friday night: Don't go to a high-school football game when you're 34 weeks pregnant. I was pretty much unable to breathe sitting on the bleachers. The bathroom line was really long. And being around teenagers kind of scares me.
Here are some posts I really liked this week:
And posts I have spared you this week:
"How I Am Going to Have to Sue My Homeowners Because They Do Not Understand Renter's Rights" (No, we won't really sue them. But it's getting old.)
"Why Can't I Get Through a Hypnobabies CD Without Falling Asleep?"
"I Know Being Rich Wouldn't Make Me Happy, But Right Now It Would Be Nice to Have Some Cash."
"Libbie's Christmas and 2 Year Pictures"–oh wait! I did post about that. It's just on my personal blog. (I say that as if this ISN'T a personal blog. It is! Just not where I share pictures of Libbie gratuitously.)
Don't forget to enter my giveaway to win $30 credit to Mint Julep Monograms by Friday! And the ongoing list of "giftable giveaways" has been updated. Sorry I have not posted it again this week if you were looking for it.


Added to Saturday Stumbles at It's Come 2 This.