This post may contain affiliate links. Please see my Disclosure statement for more details.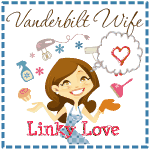 First things first, favorite cute kid pic of the week. I took David to the doctor yesterday and at 7 weeks he weighs over 12 pounds. Can you say holy moly?
And my favorite new Libbie video of her antics. She is a hoot when she's not being willfully disobedient…
And here are some things I read this week that I think you should read, too!
Fold a Heart into an Envelope Tutorial at Impress Your Kids – I have this project started but I can't even get Libbie to color the hearts. She wants to wad them into a ball. Hrm. I'm not even good at TRYING to be crafty!
Activities for a One-Year-Old at Alicia's Homemaking – for when you have to stay inside
The Other Proverbs Wife at The Diaper Diaries
Samoa Scones at Baking Bites – I am tempted to throw no-dairy out the window for these
Grilled Chicken and Pineapple Sandwiches from Cooking Light – yummy!
Added to Saturday Stumbles at Simply Staci.