This post may contain affiliate links. Please see my Disclosure statement for more details.
It plagues me regularly: the feeling that our home is not enough.
It's certainly large enough for us. Four bedrooms with our current set-up. Adequate living room, two bathrooms, one even graced with a jacuzzi bathtub. OK, so the jacuzzis don't work, but it IS big.
Right now the bathroom is being invaded by ants, our stove is approximately 80 years old and the burners are uneven, our bedroom carpet is hideous, and there is no door between Libbie and David's rooms so I am not sure how I will ever move him in there. Teddy-bear border is scraped off Libbie's walls; it appears to have been stuck back on with hot glue when it was falling down. Her walls await green paint which has yet to have been procured in the appropriate color.
Not to mention this is not even the house that we own.
I saw my parents' new house for the first time Saturday evening. I immediately got the tingly jealous feelings. Gorgeous kitchen. Amazing floorplan. Beautiful tiled shower. Space. Lack of insects. Not 61 years old.
Right away, I do a double-check of feelings. Because? My parents have been married 32 years and are in their (EARLY and do not act it at all) 50s.
One of my biggest annoyances is that people my age and younger think they "deserve" everything RIGHT NOW that their parents have spent many years working toward. When my parents were my age (also with two small children), they lived in the same sort of older ranch house that we do now. They had the same financial struggles.
It's a constant cloak, the want for what I don't have. How do I shrug it off? Joy and thankfulness for the much I have. Clinging to the robe that I have in Christ.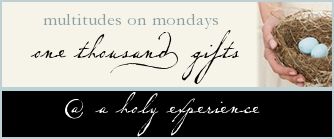 Today, I am thankful for:
– the sweet curl-framed face of a toddler whose enthusiasm for life makes me crave a childlike faith
– the first laughs of my baby boy
– a home that is more than adequate for our needs and wants
– a stove that simmers soups and an oven that bakes fresh bread
– a safe and uneventful car trip from Chattanooga to Pennsylvania
– parents who adore me and my children and play on the floor and shower all of us with affection
– singing songs from 1998 in the car with my sister and trying to teach them to Libbie
– sweet sleep with an electric blanket
What are you thankful for today?
Join us for Gratituesday at Heavenly Homemakers!
—-
Subscribe to the RSS feed or by e-mail.
Twitter much? I'm vanderbiltwife there, too.
Join my Facebook Fan Group