This post may contain affiliate links. Please see my Disclosure statement for more details.
After reading Ann's treatise on giving thanks, I know there is nothing I can do that will help my heart more.
Some days my heart longs a little too much in one way or another. One morning I am so tired I ask Jesus if He could consider just coming back now so I can stop being filled with the ache of sleep-wishing. Other days I long for material things: a laptop, a nanny, a cleaning service, grassfed beef.
I am fickle, I can be reckless, and some days I yell. I worry about breaking the spirit of my precious girl and not knowing how to parent a son.
Giving thanks, it brings focus.
So continuing from Finding Thanks in Bugs, I will be counting my gifts, my thankful moments. A place to come and journal each week and a place to remember.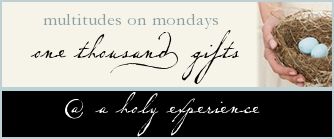 9. The sweet face of the sleeping baby in the gently rocking swing.
10. A neighbor offering celery so I don't have to load and unload carseats another time.
11. The spin of the washing machine while I am free to type and think. My great-grandmother didn't have that same privilege!
12. The taste of perfectly ripe cantaloupe.
13. Watching my curly-haired daughter "get" her first egg hunt on a blustery Saturday morning.
14. Holding her jelly bean up in the air, as instructed.
15. Letting Daddy take over baby duty at 3 a.m. so I could have 4 uninterrupted hours of sleep.
16. Swiping some M and Ms from Libbie's basket of candy.
17. Joy of a two-year-old with a new rainjacket, bought mostly with credit on Zulily.
18. An imperfect cross of eggshells.
19. Getting home safely during an angry thunderstorm.
20. The house situation possibly coming to a close … at least within the next few months.
21. Making tortillas with an eager helper.