This post may contain affiliate links. Please see my Disclosure statement for more details.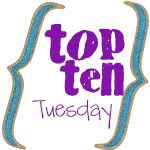 There is really very little I need right now. My house is full of things I want to purge. I have sweet, healthy children, a loving husband, a roof, and food.
But since my birthday is Thursday (1 more year til the big 3-0 …), I thought it would be fun to brainstorm a wishlist in honor of Top Ten Tuesday. (Which I also did two years ago, in case you were interested. Yes, in blogging world, what happened once will likely happen again.)
1. For our air conditioner to be fixed. File under: first world problems, spoiled. Right now it's 81 degrees in our house and I am just hoping we'll all be able to sleep tonight. Hopefully this problem will be amended tomorrow by our landlord.
2. For our house to sell. Yes, it's the theme of our life that will not end. Our condo in Nashville is on the market again as a short sell. We had an offer. It was withdrawn. I would love nothing more for this whole situation to be over. I might even be willing to live without air conditioning all summer if it meant the house would sell.
3. To sponsor another child. We currently sponsor one sweet boy, Jerome, through Compassion. He lives in the Philippines and will be seven in August. I would love to be able to sponsor more children, and I hope that is on the top of our priority list if our house ever does sell. If you'd like to sponsor a child in honor of my birthday, I'd be pleased as punch! It's a great blessing to me to get letters from Jerome's mother and see him grow up.
4. To find a nursing bra with support. Just being real here. I call this Mission: Impossible. Ugh.
5. For Libbie to stop saying, "No, I …" every time I tell her to do something. I am afraid I am not going to survive until this child goes to school. She has a big heart, but it is not turned toward obedience yet.
6.  These Crocs
. Cause hello, how cute are they? Perfect fun summer shoes.

7. A pre-order of Grace for the Good Girl
by Emily Freeman. I think I need to read this, badly.
8. Someone to clean my house from top to bottom. And then show me how to keep it that way. Somehow I think this is the least realistic wish here.


9. That dress for Libbie to wear to Disney World. Cause we all know putting her in precious clothes is all for Mama, not her. Or maybe this one. Or this one. Geez Louise, this seller makes a LOT of cute stuff.
10. An outrageously fun, girly, crazy, chocolate-infused 30th birthday party with my #sisterchicks. You have a year to plan, girls! (I just love being the youngest of them, by the way, and continually rubbing it in. And they love me anyway.)
Thanks for letting me indulge my imagination for a little while! Go visit some more top ten lists at Top Ten Tuesday.