This post may contain affiliate links. Please see my Disclosure statement for more details.
I'd like to introduce you to a friend of mine, Kelly. She blogs at miskellany. Many of you may know what a small world blogging creates. Kelly and I went to high school together in Richmond, Virginia. Now she lives in Mississippi and I live in Tennessee. We haven't seen each other since high school graduation, but we keep in touch … because we reconnected through our blogs.
A few weeks ago, Kelly was your everyday mommy blogger: a frugal, vegetarian, natural and green living, PhD student, living in Mississippi with her husband and almost two-year-old son, Simon. When her vision started blurring, Kelly thought she needed some more sleep and less time at the library staring at a computer screen.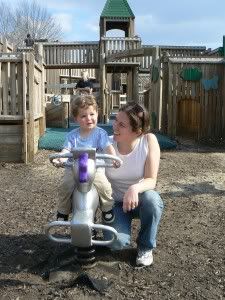 As her vision worsened, however, Kelly underwent medical tests and found out she has a rare type of brain tumor sitting on her optic nerve. She will travel to Johns Hopkins next week for consultation and surgery. In the best case scenario, Kelly will be in the hospital for five days and recovering nearby for two weeks. If the surgery is less successful, Kelly will lose her eyesight. She would need to stay in Baltimore at least a month to go to rehab and learn to live as a blind woman.
Kelly is 29 years old and has a toddler. She could be me. I can't even imagine what she is going through right now.
The Plan
A group of us want to help Kelly have the most comfortable hospital stay and recovery possible. We're asking if you would consider donating just $3 by clicking on the "donate" button. The money will be used to fulfill Kelly's wish of having some wonderful, new, comfy pajamas for her time in Baltimore. We're hoping to have enough to throw in a gift card to Trader Joe's, so her husband can buy some prepared foods for their family that fit with their dietary preferences.
Will you help by pitching in $3? We'll let you know on Monday how much has been raised!
I also wanted to gather a few sellers of homemade items who would donate store credit to Kelly. She is a huge fan of Etsy and homemade and upcycled items. I want to thank Moxie Mandie and Candace from Twiggie Makes for donating to that project. If you sell handmade items and would like to donate store credit, you can e-mail me: jessie at vanderbiltwife dot com.
________
Want to join in the "Why I" fun? Add your link here. The only rules are that your post title must start with "Why I" and you must link back to Vanderbilt Wife by link or by the button.