This post may contain affiliate links. Please see my Disclosure statement for more details.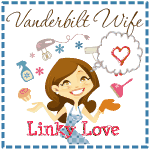 I'm about to be buried under a giant freelance project, so we'll make this quick! Here are links. They are good. Go visit them.
Y'all know I am not the least bit crafty, but I'd LOVE to do this in our guest-room closet for Libbie.
Added to Saturday Stumbles at Simply Staci.
—-
Subscribe to the RSS feed or by e-mail.
Twitter much? I'm vanderbiltwife there, too.
Join my Facebook Fan Group