This post may contain affiliate links. Please see my Disclosure statement for more details.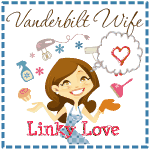 Remember last Friday, when I said I had a huge freelance project coming? It came! Just in case you didn't notice my lack of posting this week. That and the huge amount of freezer cooking I've done have definitely cramped my blogging time (and my back, unfortunately).
I haven't had much time for blog-reading this week either, obviously, but here are a few things, old and new, you might take the time to read!
Added to Saturday Stumbles at Simply Staci.
—-
Subscribe to the RSS feed or by e-mail.
Twitter much? I'm vanderbiltwife there, too.
Join my Facebook Fan Group