This post may contain affiliate links. Please see my Disclosure statement for more details.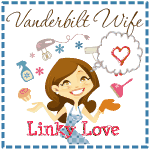 I keep promising and not following through on telling you what's going on. I have a post in drafts. It's ticker tape in my head, the words coming together in fragments. But it's not quite time yet. We don't know fully what's happening, so it's not for me to share yet.
Deal with me. I love you!
Here's what I read this week that I think you should read!
Have a wonderful weekend, y'all.
—-
Subscribe to the RSS feed or by e-mail.
Twitter much? I'm vanderbiltwife there, too.
Join my Facebook Fan Group