This post may contain affiliate links. Please see my Disclosure statement for more details.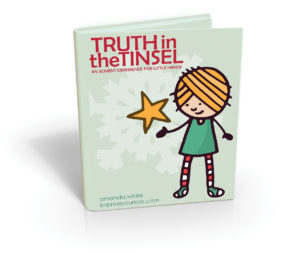 It's both a relief and panic-inducing to me that Libbie is finally old enough to do craft-type things. I longed for her to be able to color, glue, and maybe even cut. And now that she can, I try to take advantage of it!
I'm not a crafty person myself, but thankfully I live in the era of Pinterest. We've done several creative things from there recently, including cloud dough and toilet-paper-roll turkeys!
I'm thankful to continue letting others plan my craft projects, and in December we're undertaking a big one: learning about the nativity story by making an ornament every day.
Amanda (of OhAmanda and Impress Your Kids) is my oldest blogging friend. Her passion for teaching her children about Christ never fails to amaze me. And this year she's put all her crafty energy and passion into Truth in the Tinsel: An Advent Experience for Little Hands.
I was thrilled to see how thorough each day's experience is: Amanda provides a "clue" for the kids to discover in an advent calendar or on a paper chain, a Scripture to read together, questions to discuss, an ornament to make, and a further activity to do if you choose. There are also supply lists and recommendations for only doing selections from the 24 days of Advent.
The Truth in the Tinsel e-book is $4.99, but for Black Friday it's $2.99! WOOHOO!
I sincerely hope you'll take advatage of the opportunity to teach your child the importance of Christmas. I've read through Truth in the Tinsel and it's so full of gospel truth, creativity, and love. I can't wait to do it with Libbie and watch her grasp the Truth. And I'll be sharing some of our projects on the Truth in the Tinsel Facebook page, so make sure you like it!
Yes, I will make a small affiliate fee if you buy through my link. If that bothers you, just type in TruthintheTinsel.com and buy it from there. But please DO IT! Cause this is an awesome resource.
—-
Subscribe to the RSS feed or by e-mail.
Twitter much? I'm vanderbiltwife there, too.
Join my Facebook Fan Group