This post may contain affiliate links. Please see my Disclosure statement for more details.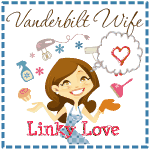 Woo-wee! I haven't done one of these posts since 12/16. I'll try not to overwhelm you, but be prepared! But first, cutest picture of the week:
She would wear this dress every day. It twirls!
And now, on with the links.
You can always see a zillion other posts I love by following me on Pinterest or StumbleUpon!
Added to Saturday Stumbles at Simply Staci.
—-
Subscribe to the RSS feed or by e-mail.
Twitter much? I'm vanderbiltwife there, too.
Join my Facebook Fan Group