This post may contain affiliate links. Please see my Disclosure statement for more details.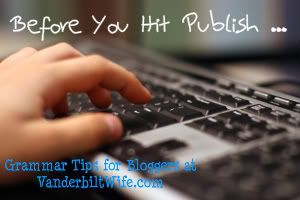 Many moons ago, I had this blog series called Before You Hit Publish. Honestly, it was meant to be a blog in itself; but when I got pregnant with David (April 2010), all motivation flew out the window. I still don't trust that I could manage two blogs plus ParentLife. So for the time being, I'd like to return the series to Vanderbilt Wife. It became quite clear to me at Blissdom that helping bloggers become better writers is one of my passions. I hope you'll read the new posts — and catch up on old ones by clicking on the image above if you haven't read them.
Boarding Your Thought Train
When you are a writer, one image or one word can strike up a whole boatload of memories in you, just waiting to be unloaded on the page one by one.
If you're anything like me, though, these triggers come at the most inopportune times. In the car. While you're talking on the phone. More often than not, when you're trying to drift to sleep.
It is so important to record enough words that you'll remember the train of thought in the morning.
I had a post in drafts for literally months — possibly a year or more — that said something like, "Chrysanthemums in Thanksgiving Visitor / writing essay / lions." I was so glad I grasped onto that thought when I finally had the chance to write it down.
On another scrap of paper, I have written, "Crying in seventh-grade choir // crying at Red Lobster in Chatt." I haven't written that yet, but it's there. The act of writing down the thoughts, even if I can't find the traces of my crazed cursive, helps cement them in my brain.

source: cutiepiecompany\
So buy a notebook and carry it with you everywhere. (Or, you know, maybe you're fancy and your smartphone can suffice. I don't have one of those.) Scribble a few words while you're at a red light. I've even written in the dark while half-asleep, hoping that in the morning I'll be able to read my own writing and make sense.
Then on those days when you are absolutely blank and staring at the screen in front of you? You'll recall your notebook, cling to one of those rushing trains, and click-clack it on to the virtual paper. It may go somewhere new, or start a whole series, or simply let you release that thought into the air and never mind it again.
Whatever comes, it's content, practice, and writing. Now go write.

Reading Like a Writer
Do you have any old journals or diaries laying around? Pick up one and read a few pages. Try not to shudder too much at how repulsive that guy you liked ended up being, or how pathetic it was how you chased after him and got your heart squished like a bad tomato. Instead, let a memory simmer. See where it takes you, and write something based on it.
If you don't have an old journal, a very old blog post or even e-mail will do. Let me know in the comments what you come up with and a link if you decide to post about it.