This post may contain affiliate links. Please see my Disclosure statement for more details.
You know I wanted to call this Valentines for the LAZY mom, right? But if you were really lazy, you'd buy a pack of Spiderman cards and hand them out. Not that I am blaming you if you do. I did that when they made me do Valentine's from my three-month-old at her daycare.
But now, at 3 YEARS old (sob! wah!), Libbie likes to do crafts and I felt a little more motivated. Especially when I woke up this morning able to move up and down and sit again after the lovely back trauma of the past few days.
So maybe you're like me and you want to put a little – but not a LOT – of effort into your kids' Valentines to their little school buddies. Here's what we did this year.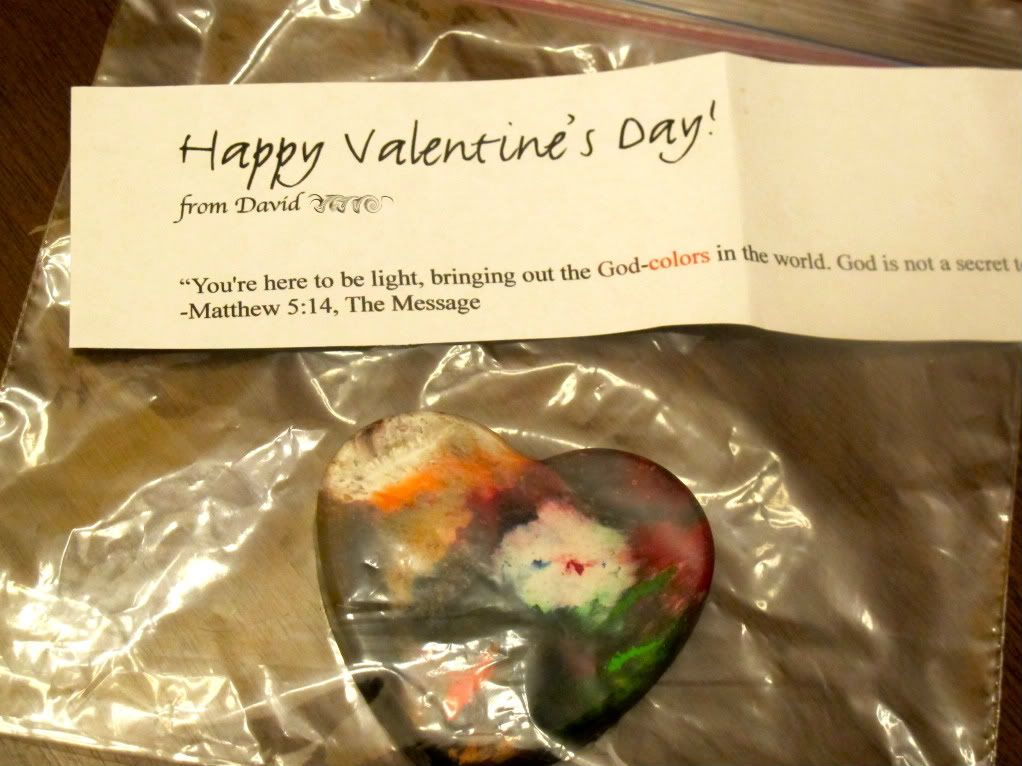 For David, I made crayon hearts. Jill led me to this via Pinterest:

source: cottoncandycastle via Flickr
Being me, I just tossed my crayons in a plastic baggie and added a little note. The hardest part was unwrapping all the crayons! My note had Matthew 5:14 from The Message translation on it:
"You're here to be light, bringing out the God–colors in the world. God is not a secret to be kept."
My advice would be to try to shake your heart mold as little as possible so that the colors stay somewhat separate. I would also toss out all the black and brown crayons. A lot of mine ran together, especially on the bottoms, leaving a brown mess. You'll notice the person on the Pin only used brightly colored crayons.
Together, Libbie and I made heart-shape mice that were super easy. I cut out all the hearts for the bodies and ears. (I used old scrapbook paper from when I used to scrapbook. You know, back in 1999.) I added glue for her to stick on the eyes, ears, and tail. I hot-glued the pom-poms on for noses; and inside each mouse I wrote to: Whoever from: Libbie.
They took us maybe an hour total with the cutting, and Libbie loved helping make her "Balentines." She wanted to know if the other kids were going to give her mices, too.
So there you have our somewhat-lazy Valentines. Are you a homemade-kinda mom, a store-bought card mom, a personalized gift bag for every kid mom? (There is one of those last types in Libbie's class. It always makes me feel lame … and yet more sane.)
I feel like I need to say that my motto for parenthood is DO WHATEVER KEEPS YOU SANE. This year, I felt like I had the energy to make Valentines. Some years, not a chance. You should have seen the ridiculously ugly cupcakes I sent for Libbie's birthday this year. We're talking leftovers from every tube of old frosting I had laying around. (And that over-the-top mom? Brought pizza for all the kids that same day. For no reason. Argh.) So if you needed to buy cards this year, NO SHAME. If you wanted to hand-make doilies, YOU GO GIRL. The world needs all kinds of parents.