This post may contain affiliate links. Please see my Disclosure statement for more details.
I confess I find it the easiest to count God's gifts on quiet afternoons, when everyone is asleep but me and I can hear Him, smell Him, taste Him in my little home.
It's Saturday, nearly 6 o'clock, and the kids and I are at my sister's apartment in Memphis. Wine-drizzled chicken tenders seasoned with garlic powder and Italian seasoning are fragrant in the oven. Rice simmers gently on the stovetop. Libbie curls on the couch, her posture defying her insistence that she was not tired, no way.
We spent four hours at the Memphis Zoo, soaking up sunshine and sweating in the 80-degree weather while we viewed chimps and pandas and bats. David tried to talk to a lion. Libbie marveled at tigers, jumped back from a too-close monkey, and – well – whined through a few exhibits of grizzly bears and wolves.
On an afternoon like this at home, I would feel the need to right all the things in wrong places, to scrub the counter and launder the laundry. But here, I just think, quiet only interrupted by beeping microwave timers and the hum of the air conditioning.
I need gift-collecting time like this; but this is not life for me right now.
Having two toddlers means dirty dishes, crumbs on the floor, mislaid crayons, towers of tiny t-shirts and towels shaped like frogs. Having a three-year-old means near-constant corrections, being climbed upon when I'd rather be reading, tears in the bathtub, and hearing "no" more times in a day than I ever could have imagined.
I love this quote from Lysa TerKeurst in her book What Happens When Women Say Yes to God:
How selfish of me to call our home "my house." How ungrateful I must have seemed to God. I could have a near and tidy house where things never got lost, misplaced, or broken if there were no others living there but me. But my heart never wanted just a house. My heart longs for a home full of people who I love.
I would almost certainly still manage to lose and break things if I were alone, but that's another story. Still, Lysa makes the perfect point. My heart longed for a home full of children, and that is what I have. It's not going to make the pages of Better Homes and Gardens anytime soon … but I will use it to its purpose: the service of my families and others. The spreading of love and hugs. The cooking of food for us and for sharing.
The gifts are simple to count in the quiet … but they are just as present in the chaos.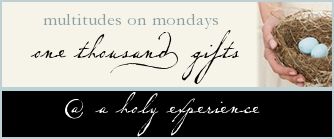 Gift-remembering:
Nana and Libbie dancing in tutu
Shopping with my mom without kids – a very rare treat!
David's face and giggles at "I'm coming to get you!"
Praise from a mentor
The smell of chicken cooking in wine
An auntie painting her niece's toenails and fingernails
Libbie's look as the airplane lifts off at the Memphis children's museum
David "vrooooming" a toy bulldozer
Cooking in silence
Happy squeals at seeing Daddy
Unexpected DVD that feeds my musical-love (Sarah Brightman with 5 Phantoms? Oh yes, please!)